Liverpool
Klopp favourite Firmino can spare Liverpool Europa League misery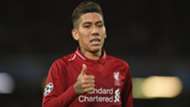 When Liverpool entertained Fulham at Anfield last month, sat in the directors' box were at least 20 interested observers.
The group had travelled from Germany for the game, guests of Jurgen Klopp and clients of Marc Kosicke, his agent. The idea was for them to watch, then to meet for a debrief – and a few drinks – with Klopp later on.
It proved to be a pretty routine day for the Reds. Mohamed Salah and Xherdan Shaqiri scored either side of half-time to seal the three points, in what proved to be Slavisa Jokanovic's last game for the Cottagers. Virgil van Dijk impressed at the back and Fabinho looked good in midfield, in only his third Premier League start.
When Klopp and his guests met up for beers that evening, though, it was the performance of one player which dominated the conversation.
"I'm not sure what the critics were saying about Bobby Firmino after the game," Klopp said. "But when I saw the coaches later and we had drinks together, they were like 'Bobby Firmino... what a player!'"
It was an interesting assessment. Firmino, to the naked eye at least, had produced one of his quieter games. He had the eighth-fewest touches of any Liverpool player who started the match, managed just one shot during the 90 minutes and, according to Opta, won just one of the seven duels he contested.
So why the rave reviews from his German fanclub?
"It's because of the small things he is doing," Klopp went on to explain. "He is working hard, he is here, he is there, he has five goals now and he opens 5,000 gaps for everybody. It's about how you see it."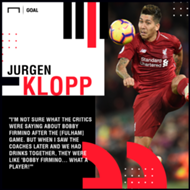 That, perhaps, sums up Klopp and Firmino in a nutshell. The wider world may not always appreciate or recognise the impact the Brazilian has on Liverpool, but his manager will never underestimate it. Nor will his supporters. Last season, Klopp demanded a song for the former Hoffenheim attacker and in recent weeks we have heard the response.
"There's something that the Kop wants you to know," sing the travelling Reds. "Best in the world his name's Bobby Firmino. Our No.9, give him the ball and he'll score every time. Si, senor. Give the ball to Bobby and he will score."
Nobody made more appearances for the Reds last season, and nobody has featured more often this time around either. Firmino's goalscoring form may have slowed – he has six in 22 appearances so far – but his importance remains undiminished. He is, for Klopp, the key to just about everything.
Ahead of Liverpool's trip to Burnley last week, Klopp was asked about his No.9's form. Was he, perhaps, struggling to adapt to the Reds' new system? Did he maybe need a break?
Klopp's answer was emphatic.
"That's how it is with a player's career," he replied. "You have these moments where you fly and you cannot really explain it, and other moments where you have to work a bit harder to come again in the moment where you fly. That's exactly the case for him.
"It's nothing to worry about or anything. It's just a normal football season. We all have to go through these little holes or whatever and then everything will be fine again, especially with him because his attitude is absolutely phenomenal. That makes it easier for him, he will never stop. Everything will be fine."
A week on, and Klopp looks prophetic. Liverpool have played twice and Firmino has looked like his old self again. Great news, ahead of Tuesday night's make-or-break Champions League clash with Napoli.
What a night it promises to be at Anfield. Liverpool know their task – win by a 1-0 scoreline, or by two clear goals, and they will guarantee progression to the last 16. Anything else and they will be looking at a New Year spent in the backwaters of the Europa League. Pride, as well as morale, will be damaged.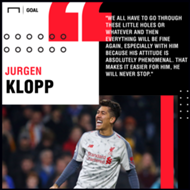 Good news, then, that in a group where attacking stars have shone, Liverpool's are running into form at just the right time.
Firmino and Salah started on the bench at Burnley, but emerged in the second half to turn the game the Reds' way. Firmino scored with his first touch, his first league goal in close to three months, while Salah set up Shaqiri's clincher in the 3-1 victory.
At Bournemouth on Saturday, the pair were at it again. Playing as something like an orthodox front two, they were deadly on the South Coast.
Salah got the rewards, his hat-trick taking him to 12 goals in all competitions this season, but the role of his partner was key. Firmino's touch, movement, counter-pressing and use of the ball were all sublime. It was the 27-year-old at his mercurial, selfless best.
Firmino has already made one crucial contribution to Liverpool's Champions League campaign, coming off the bench to grab a stoppage-time winner against Paris Saint-Germain on Matchday One. Without it, his side would be out now.
As it is, they're still in there fighting. Napoli, with Lorenzo Insigne, Dries Mertens, Jose Callejon, Marek Hamsik & Co., stand in their way; a sizeable test on a night with little margin for error.
But with Salah scoring and with Firmino firing, Liverpool will be confident of progression.
It promises to be another of those Anfield nights. Whatever you do, don't take your eyes off it...