FIFA Club World Cup
Kenyan referee Aden Marwa to officiate at 2018 World Cup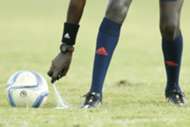 Kenyan referee Aden Range Marwa has been picked as among the match officials for the 2018 Fifa World Cup to be held in Russia.
The 41 year-old is the first Kenyan football official to be involved in any Fifa competition, having featured in the 2011 Fifa U-17 World Cup.
The mathematics and chemistry teacher from Komotobo Secondary school in Migori County was named as an assistant referee in the 2012 and 2013 Africa Cup of Nations, but his very first major international duty was an Africa Cup match in Zanzibar way back in 2000.
Marwa has served as a Fifa referee from 2011, and was named as a reserve official at the 2014 Fifa World Cup and an assistant referee at the 2016 Fifa Club World Cup.