Transfers
Kaizer Chiefs' acquisition of Andriamirado 'Dax' Andrianarimanana cleared by Fifa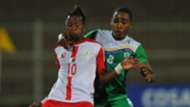 Kaizer Chiefs' recent acquisition Andriamirado 'Dax' Andrianarimanana has finally been cleared to play for the club by football's governing body Fifa.
This comes in the wake of protests by the Madagascar international's former club Fosa Juniors, who claimed that the player had signed illegally as he was still contracted to the club.
Amakhosi have constantly refuted these claims holding firm on their stance that the player was a free agent, and they have since been vindicated of any wrong doing as the matter was taken to football's highest body where a judgement was handed down by the Fifa's Players' Status Committee.
"Kaizer Chiefs' attacking midfielder Andriamirado 'Dax' Andrianarimanana has provisionally been cleared to play for Amakhosi by Fifa's Players' Status Committee," a statement issued on the club's official website read.
"The world football's governing body's Single Judge decided to authorise Safa to provisionally register the player for its affiliated club, Kaizer Chiefs with immediate effect," the statement added.
Player Updates: "Dax" cleared to play. More info: https://t.co/ektYRGBARu #HailTheChief pic.twitter.com/hGVqVhoc38

— Kaizer Chiefs (@KaizerChiefs) September 12, 2018
Meanwhile, Chiefs' football manager Bobby Motaung was delighted by the outcome and believes that the player can now put his head down and work on helping the club.
"We feel vindicated and are happy the matter has been resolved," Motaung was quoted as saying by the website.
"What's important for us is that the player can now focus on his football and doing well for us," says Kaizer Chiefs Football Manager Bobby Motaung," he concluded.
With Dax now being given the green light, Chiefs will be eager to get him fit and ready for their upcoming games.
Chiefs have started the season rather disappointingly and are without a win in the league.
However, the club have brought on board the likes of Lebogang Manyama as well as defender Mario Booysen and they too will be expected to make an impact alongside the 27-year-old winger.