NPFL
Kabiru Baleria promises Kano Pillars' resurgence against Yarmalight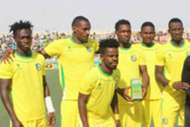 Kano Pillars head coach, Kabiru Baleria has opined that Yarmalight will pay for their inability to beat Delta Force two days ago when they square up with the Nigeria National League side on Monday evening at the Sani Abacha Stadium, Kano.
Nyima Nwagua scored the first goal of the game in the first half to put Sai Masu Gida at a vantage position but they were unable to repel Delta Force who came into the second half with renewed determination not to lose to Pillars and they netted the equaliser very deep into the stoppage time to ensure the tie ended 1-1 apiece.
Baleria who said it was difficult to blame any of his players for the draw pointed out that he has informed the players what they must do to ensure that they do not suffer the same fate against Yarmalight who are equally a good side.
He charged his players to rise up to the occasion and strive to activate their recent impressive results in the friendly matches they have played with a win against Yarmalight.
"We didn't play very well against Delta Force because we failed to utilize the several chances we created in the game but it is part of football because we hope to do the needful when we face Yarmalight in our second game," Baleria told Goal.
"We must have to bounce back against Yarmalight because our fans are expecting a lot from us and we also have set a big yardstick before us and we can't fail. We have had a good pre-season thus far and we even played against the Flying Eagles. The game with the U20 national team and other ones that we have played are to prepare us for the start of the season.
"We also have the privilege of playing some more games in Kano in a pre-season tournament and we are hoping to make good use of these games very well to ensure that we are well charged for the start of the season. The result against Delta Force is a just a temporal setback we shall get our bearing from the next game."