Juventus
Juventus striker Higuain a doubt for Napoli after hand surgery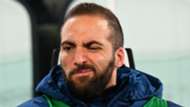 Juventus striker Gonzalo Higuain has undergone surgery after fracturing a bone in his left hand, making him a doubt for Friday's visit to Napoli.
The Argentina international was an unused substitute in Juve's 3-0 win over Crotone at the weekend, but reportedly had his hand bandaged.
Juve confirmed via a statement on their official website that Higuain had sustained a fracture to the third metacarpal on his left hand, and he went under the knife on Monday.
The Bianconeri did not disclose how much action, if any, Higuain would miss, but with the Serie A champions visiting league leaders Napoli on Friday, it remains to be seen if he will be fit enough to face his former club.
Higuain has scored eight goals in 13 league appearances this term, and spent three seasons with Napoli between 2013 and 2016.
Juve are third in Serie A, four points adrift of Napoli.