Tottenham Hotspur
Klinsmann: Harry Kane is the complete player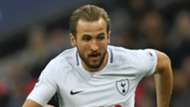 Jurgen Klinsmann has heaped praise upon Tottenham striker Harry Kane, calling him a complete player.
Klinsmann was a hero during his time at White Hart Lane hitting 29 goals in the 1994-95 season that he spent in north London.
The retired German forward, who scored 40 goals for his national team, spoke about Kane's talent on the club's official website.
"I'm a big admirer of Harry," he said. "He's very complete in his game."
"He can score with his left foot, right foot, his head and he's a great passer of the ball. He's a great connector as well, a little like Teddy [Sheringham] was. He was always complete as a player as well.
"I'm even happier because he comes out of that great culture created by Spurs, a product of the academy. That makes you super proud because you feel even more connected with him.
"I just think that the foundation of every club in the world is its own products, its own players."
Kane scored against Watford on Monday night to take his tally up to 27 in the league this season.
The 24-year-old is chasing his third consecutive Golden Boot but he currently trails Liverpool winger Mohamed Salah by four goals in the race to become top scorer.