AFC Champions League
'Poker face' - Mitchell ready to go all in against Guangzhou Evergrande
Goal Australia Chief Editor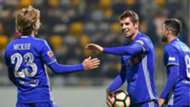 ---
EXCLUSIVE
---
Australian defender Josh Mitchell has revealed he kept himself afloat by playing poker before signing with Hong Kong Premier League club Eastern SC in July.
Mitchell spent almost 12 months without a professional contract after being released by Liaoning Whowin midway through the 2015 Chinese Super League (CSL) season, and he paid the bills by playing poker and designing websites.
The former Perth Glory and Newcastle Jets centre-back's ability to bluff could be an advantage when Eastern visit CSL champions Guangzhou Evergrande in the AFC Champions League (ACL) on Wednesday.
Mitchell will be tasked with anchoring Eastern's defence in their ACL group stage debut against the likes of Ricardo Goulart, Alan Carvalho and Paulinho.
The 32-year-old Australian has settled in quickly at the Hong Kong Premier League champions, playing 10 of Eastern's 13 matches of the 2016-17 campaign so far.
"It was kind of nice to have that break," Mitchell told Goal.
"I left Liaoning, came back to Sydney and was obviously waiting to see what happened, and in the meantime I actually played poker to keep myself afloat.
Mitchell: CSL lacks stability, infrastructure to challenge Europe's elite
"So I would get up in the morning, go train, go to the gym, go running - whatever it was to keep fit - and then I'd play some poker in Sydney to pay the bills, so to speak.
"Then finally something concrete turned up, because I had a lot of near misses, and I was off to Hong Kong."
Alongside poker, Mitchell began a side-project designing websites in order to "learn some new skills" and prepare himself for life after football.
Check out some of Mitchell's work here
Now, though, Mitchell is completely focused on Eastern's trip to Guangzhou where they will face the two-time ACL winners this week.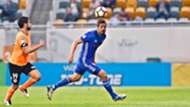 There are a number of sub-plots to the clash with Eastern set to become the first Hong Kong Premier League club to play in the ACL group stage, while their manager Chan Yuen-ting will be the first woman to coach a team at that level.
Plus there is the complicated historical and political relationship between Hong Kong and China, which saw another chapter written on the football pitch in 2015 when the former surprisingly held the latter to draws home and away in World Cup qualifying.
"It doesn't get any bigger," Mitchell said.
"I can't wait. It's going to be great."
According to Mitchell, Eastern are realistic about their chances against Evergrande, who are one of the most powerful clubs in Asian football, and simply want to be able to walk off the pitch at Tianhe Stadium with their "heads held high".
Scolari extends Evergrande contract
"Football here [in Hong Kong] is not young but it's still developing and it's changing. There is more investment coming into the game here, especially at some of the top teams, and they're just trying to put Hong Kong football on the map," Mitchell said.
"To show we're here, we are a serious league, a serious set-up, we have some very professional teams, and to showcase that and what we have to offer."
Eastern have been drawn in Group G alongside Evergrande, Japan's Kawasaki Frontale and Suwon Bluewings of South Korea.