Jomo Cosmos
South Africa legend Jomo Sono confident in tax allegation case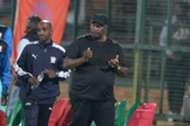 Jomo Cosmos owner Jomo Sono has responded to allegations that he owes the South African Revenue Services (Sars) a reported R40 million in taxes.
Recent reports have surfaced, revealing that the former Bafana Bafana coach allegedly finds himself in hot water for these unpaid taxes. On Monday the Ezenkosi boss spoke exclusively to Goal about the matter.
"I can't talk about it and on behalf of the club, we can't talk about it, but I can tell you that I am happy," Sono told Goal.
There have been fears that Sono's financial problems could affect Jomo Cosmos but his confidence will be a positive sign that matters could normalise. 
When pressed for comment on why he is "happy" after these allegations were made public, the outspoken coach only explained that the matter was with the courts.
"No comment because the matter is sub judice. It is in front of the courts. I think people have read the story," he explained.
"In life you can't comment to every little thing in the newspapers. Don't worry about what is in the Sunday Newspapers," Sono concluded.
According to court papers seen by the Sunday World newspaper, Sars had previously obtained a writ of execution to Sono and now it remains to be seen if the football legend can resolve this problem.