MLS
Jermaine Jones hints at Rapids exit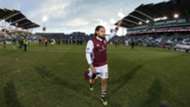 Jermaine Jones looks set to leave the Colorado Rapids after the team failed to advance from the Western Conference final.
The U.S. international tweeted a message congratulating the Seattle Sounders on advancing to the MLS Cup final after a 3-1 aggregate win over Jones' Rapids. 
Congrats to the @SoundersFC for winning the conference!! And a big thanks to my teammates, coaches and fans for an amazing season.

— Jermaine Jones (@Jermainejunior) November 28, 2016
But he also posted another message, since deleted, indicating he's open to finding a new club during the offseason. "Now it's time to enjoy family and in a couple of weeks getting back to work!" the tweet read. "We will see where!! FREE AGENT BABY"
Jones is not a MLS free agent, needing more seasons of MLS play to get that distinction, but he is out of contract with the league. Though the tweet was taken down, Jones made no secret of the fact he's open to leaving MLS.
"People know that I came to this league as a (designated player) and this is where I want to go back to," he told the Denver Post. "I'm a free agent now. I will sit back and see what comes. I'm not scared to go back to Europe or scared to go to Mexico or somewhere."
Jones arrived in MLS from Turkish side Besiktas in 2014 after a long career in Germany. He made $3.05 million with the New England Revolution in 2015 but joined the Rapids before the year after taking a steep pay cut, with a $650,000 salary this year, according to figures released by the MLS Players' Association. Jones missed much of the 2016 season with a knee injury.