Kerala Blasters
Kerala Blasters to embrace change under David James - 'We want to win trophies'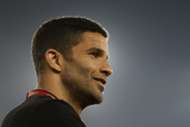 Four years ago, David James took Kerala Blasters to the final of the inaugural edition of Indian Super League (ISL).
Although they were denied ultimate glory, under the then player-manager, the Kerala-based club showed incredible fighting spirit and vigour to win games and when things went wrong, the team would somehow find a way to win. Four years later, the club has turned to the same man to steady the ship and bring trophies to the shelf. 
Everything seemed rosy at the club when Rene Meulensteen was appointed as head coach in the summer. The Manchester United connection did not stop there. The club roped in Dimitar Berbatov and Wes Brown as two of the biggest names in the league. But things soon went downhill as the team just failed to get into a rhythm, with just one win in seven games. The head coach was sacked and the team needed a familiar face to take up the role of the rescuer. And the former Manchester United coach was replaced by the former Liverpool goalkeeper. 
Under David James, Kerala Blasters remained in the race for play-offs until the final few rounds of fixtures and more importantly, the fans had a reason to rejoice. The turnaround in fortunes convinced both the coach and the club to shake hands and put pen to paper on a new three-year contract, which in ISL terms, is a long-term commitment. 
"Initially, the request to come here was something that I had not anticipated but I was very eager to get involved," David James spoke exclusively to Goal. "At the same time, I did not want to come out for just three or four months. So there was a possible interest in doing something long-term.
"The structure of ISL until this season has been very short-term. Players rotate from one club to another, managers are in for one season and then out again. So there was a desire to do something more stable.
"I wouldn't say the idea of signing long-term was a no-brainer but there is a lot of commitment involved from everybody. It allows the club and myself to plan and have a strategy going forward rather than just get through each season."
Blasters have what other teams don't - bazillions of vociferous supporters who are more often than not, sensitive and emotional to everything related to the club. From transfers to match results to the colour and design of the jersey, they always have an opinion and aren't afraid to voice it. And that leads to pressure and scrutiny. 
"The support that we have been getting has been nothing short of unbelievable. The way the fans are charged is unbelievable. Number-wise, because of the all-seater stadium situation after the U-17 World Cup but also for the right reasons...there is a better appreciation of what they are watching.
"They are watching live football on social media. Everything allows them to have a better education on what they are watching and with that comes more educated opinions," James pointed out. 
"There is an argument that the home support is a benefit because they are all behind you and they are, hundred percent. But unfortunately, a lot of the opposition players want to play in front of our fans as well. I am not asking fans to be any different, we just have to be more aware of what the opposition is going to be like," observed the Englishman.
"When it comes to criticisms, of course, this isn't a joke and when there has been a tendency in the past that you come to a club for one season, then you are recruiting a player for short-term and therefore they only have to deal with for a short term. If it's good, it is great and if it is not, they don't have to worry about it."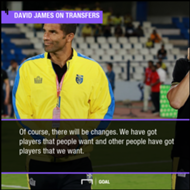 Incidentally, the stint is all set to be David James' first major professional commitment as a head coach. And he knows that when it comes to a new and upcoming league like the ISL, the recruitment of the right players is the foundation that he needs to get right.
"There are two aspects to the scouting policy. There are Indian players and the foreign players. There is a small number of Indian players to look for. There are many foreign players. There is no restriction on where they come from, as far as I am concerned. However, they have to fit certain criteria which I won't give in detail," said James.
A notable issue with the recruitment policy by most ISL clubs has been the desire to rope in former superstars either well past their prime or with severely compromised fitness owing to their age, which is usually over 30. 
"It is a challenge. Not very often you get a player in his mid-20s to come to India and the logic behind it is that we just finished four seasons in ISL. In every definition, this is a very young league.
"If you are a 25-year-old European player, then you want to be playing in one of the top clubs in Europe. To go and have a spell in India, it would suggest that you are going away from your desire.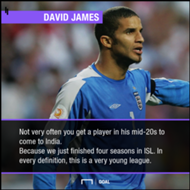 "However, the U-17 World Cup has completely changed things by allowing teams to have better training facilities and the quality of the pitches has improved as well compared to year one (2014). Clubs are having to think harder and better about bringing players in - better quality for a longer term. It is improving, slowly, but it is improving."
With the club tying down the head coach and assistant coach Hermann Hreidarsson to long-term contracts, it is time to tailor the squad to how James wants to shape in order to gain success.
"The free market for the Indian players is the key issue here. There are a small number of Indian players available and within them, there are different levels of quality. Of course, there will be changes. We have got players that people want and other people have got players that we want.
"It will be interesting to see what will happen, a bit of mayhem somewhere down the line. But the changes will be with a long-term view," assured the former England International. 
If and when he has the right players at his disposal, the next step would be to engrave his footballing ideas onto the squad. But what style of play will Kerala Blasters adopt under James? One that wins trophies, according to the 47-year-old head coach.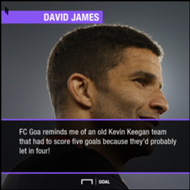 "I would love to say that it is not about results and that it is about entertaining supporters. But ultimately, the supporters want to win trophies. I don't hear many Kerala fans saying, 'we love watching exciting football, we don't care about the results.' They want wins, that's what we want too. 
"In the top leagues in Europe, the style of play is pretty much the same. You watch Champions League and it is pretty much the same. When it comes to the ISL, Goa reminds me of an old Kevin Keegan team that had to score five goals because they'd probably let in four. Jamshedpur are bit more stingy in defence. There are different styles and we have to adapt to that. 
"With the development and improvement of the Indian players, you are now looking at six players on the field who are getting better compared to what used to be five foreign players dictating the play. In our situation, we lost crucial players at crucial positions and we had to adapt. The style of play is fluid, we just want results."
And an army of yellow is waiting for exactly that.