Indian Super League
ISL 2018-19: Sergio Lobera - FC Goa won't change style of play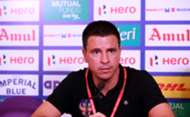 FC Goa's first defeat of the 2018-19 Indian Super League (ISL) season came in a game which didn't feature their talisman Ferran Corominas, against Jamshedpur FC.

The Spaniard leads both the goals and assists charts this season with six goals and four assists to his name. Head coach Sergio Lobera was quick to dismiss this "dependence" on a single player and mentioned that the team should be able to cope with the absence of Corominas.
"As a coach if I were to say that we lost the game because we didn't have a player available would be very irresponsible on my part. It is evident that Corominas is a very important player for us and it's good news that he will be back for us tomorrow.

"But if you rely so much on one individual then it's unlikely that you will win a lot of things. We need to overcome adversities with or without the players."
When asked if there will be a change in Goa's style of play following the 4-1 thrashing at Jamshedpur, the Spaniard maintained that the possession-based football is what makes Goa unique and he won't be sacrificing the core of his philosophy after one bad game.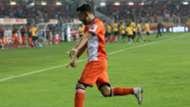 Lobera did point out some weaknesses in Goa's game and the team will be working on the flaws. "We won't change our style of play because that is what makes our players stronger. This style will help us go out and achieve amazing things.
"There are aspects of our game that we need to improve, not just in open play but at set-pieces too. We conceded two goals from corners and the third goal they scored which proved to be decisive also sort of came from the corner. But we won't change our style of play."
Goa's next challenge comes in the form of ninth-placed Delhi Dynamos but Lobera is wary of his opponents. The Spaniard believes that the team will have to perform at the top level if they are to see off Delhi on Friday.
"Delhi have showed against Jamshedpur that they've turned a corner. They drew a team that we clearly lost against. It's also evident that they changed their line-up. They've recovered the players who were injured in some way or the other.

"I think tomorrow we will see a different form of Delhi that we haven't seen until now. They are a good team with a good coach. I don't see us getting all three points if we are not at our 100per centt tomorrow."