Indian Super League
ISL 2018-19: Jamshedpur FC's Gourav Mukhi handed six-month suspension for age discrepancy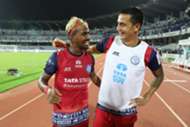 In a setback for Jamshedpur FC, the All India Football Federation (AIFF) Disciplinary Committee has decided to hand forward Gourav Mukhi a six-month suspension with immediate effect for discrepancy in his registered age.
The young Jamshedpur forward was found guilty of on the basis of evidence presented by the player himself along with an admission. The Disciplinary Committee also took into account the statement made by the manager of the AIFF U16 Academy in 2015.
Mukhi made headlines when he scored in Jamshedpur's 2-2 draw with Bengaluru FC with the Indian Super League (ISL) declaring him as the youngest ever goal-scorer (16-year-old) in the league's history.
However, controversy erupted later after it emerged that Mukhi was one of the Jharkhand players found to be over-age during the India U16 national camp in 2015. 
As the controversy gathered pace, the AIFF was forced to take notice. Recently, the governing body suspended Mukhi provisionally from all AIFF tournaments until the matter was resolved by a relevant committee.
The Jharkhand native's registration in the Central Registration System (CRS) as well as the Competition Management System (CMS) have now been revoked with immediate effect.
The AIFF has now given Mukhi and his club the liberty to submit valid original documents for a fresh registration in the two systems.