Bengaluru
ISL 2018-19: Gurpreet Singh happy with knowledgeable goalkeeping coach Cristian Patru
Sooraj Kamath in Bengaluru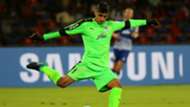 Bengaluru FC custodian Gurpreet Singh Sandhu has lauded the team's new goalkeeping coach Cristian Patru ahead of the fifth edition of Indian Super League (ISL).
The Romanian joined the South Indian team before the club set out to Spain for pre-season. The Blues keeper is excited to start a new journey with a coach who he feels is capable of bringing the best out of him.
"The new goalkeeping coach has been good so far. I think he is a guy who has the knowledge and has played as a goalkeeper himself. That is very important for a goalkeeping coach.
"A coach needs that playing experience. He's been pushing me in a very good way, both physically and mentally. There is still some training to do before the league starts and hopefully, it is going to help me contribute to the national team and the club as well."
Gurpreet also shared his thoughts on Bengaluru FC's pre-season in Spain. The keeper was disappointed to miss out on the initial days of the pre-season due to chicken pox. He also felt that the recovery phase coinciding with the remaining games of the tour meant that he could not perform to his potential.
"My Spanish trip wasn't that good. When I arrived there, I got chicken pox and I was out for 10 days. Coming back from it and going straight into a game like Villarreal and (then) Barcelona B was very tough for me. I was still in that recovery phase. But to play against such sides was incredible," he concluded.