Indian Super League
ISL 2018-19: David James – Disappointed that we didn't take three points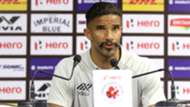 A last-gasp goal from Mumbai City FC broke Kerala Blasters hearts as they failed to pick up full points from their second fixture of Itndian Super League (ISL) season five.
Halicharan Narzary's strike gave Kerala the lead in the first half but Pranjal Bhumij scored a world class goal for Mumbai to snatch away a point from the home team.
Speaking about the match, Kerala Blasters coach David James said, "The feeling is disappointment that we didn't take three points from a game that we had in control. The quality of the strike has to be admired. I am not a fan of taking long range efforts. It is the sort of goal that heroes are made of. From a coaching point, we had good control of the game. We had chances to hold on to the ball. It was an instruction to control the game and that was what we lacked. It is a learning curve and there are a lot of young players you can't switch off in the final minutes of the game."
James further suggested, "We used the ball much better, we passed much better. In the second half, there was a need to change because we were getting scrappy. We were starting to play a scrappy game like that of Mumbai, which I think is not conducive to winning games."
James once again fielded youngster Sahal Samad in central midfield ahead of foreigners like Courage Pekuson and Kizito Keziron.
Speaking on Sahal's performance, James said, "Sahal is wonderfully creative. He showed that against ATK. I can't tell him what to do with the ball. He is skilful on the ball. It was a tough game, it was a very demanding game for the players."
Appreciating the fans' support, the British coach said, "We have got the best fans in Indian football. The problem is you have got players who want to play in front of a good crowd. That makes them try a little bit harder. The opposition gets a chance to shine in Kerala. As a group of players, we need to control the games. And that should have been three points today. Not everybody plays well in front of the fans."
On Dheeraj's shaky performance, the former England international goalkeeper opined, "I think goalkeepers tend to get 'roughed up'. For an 18-year-old, having come from the U-19 side or a U-17 side, he is playing against men (much older players). I don't think he had a problem with the aerial stuff. It would be an easier conversation to have had we won 1-0."