Indian Super League
ISL 2017: Arjun Kapoor: 'I want to be a connecting bridge between FC Pune City and the fans'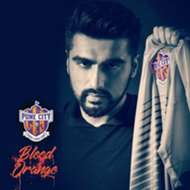 It was a mild October's day as Mumbai gradually weaned itself on the pleasant sunshine that seemed to have enveloped most of the western coast of India at that time of the year.
However, proceedings in Juhu were about to push the mercury well above the threshold. Arjun Kapoor, a Bollywood celebrity and ardent football fan, had been announced as the co-owner of Indian Super League (ISL) side FC Pune City. 
'The Two States' and 'Half-Girlfriend' star agreed to take over after another Bollywood actor –Hrithik Roshan – ceded ownership earlier this year. 
The club is in the midst of a major overhaul on the personnel front, with Ranko Popovic taking over at the helm of the team after the reign of Antonio Habas was cut short in August this year. New footballers have graced the dressing room as well, with the Orange stallions bringing the ilk of Marcelinho, Marcos Tebar and Kean Lewis into the stable.
In this time of whirlwind changes Kapoor's introduction is no doubt startling. But the hero, now in his seventh year in the film industry, has promised to increase his footballing footprint with the Orange and Purple Brigade.
In an exclusive interview with Goal, the Bollywood star was relaxed as ever, thanking the franchise's current management structure, promising to work to increase the connect with the fans, while also vowing to ensure the club's youth apparatus continues to scale new heights.  
Besides these points, Kapoor was mindful of the twists and turns in multiple, riveting ISL seasons and believes that his side have the edge as long as they maintain concentration on their results.
On being asked if he'd been nervous or perplexed with the vast sea of work ahead of him in his inaugural journey into ownership, the 32-year-old enthusiastically replied, "I've not gotten into the nitty-gritties of ownership for me to be perplexed yet. They are going to seep me in slowly. Obviously, the daily running of the club and the financial etcetera, those parts of it, will not be my area of expertise on a daily basis.
"It's more about the infrastructure, creating a connect with the fans, creating a foundation from which the club can create an identity - these are the things I feel that are organic to me as an entertainer or an actor. It's more about being able to create a connection."
He continued, "Of course, with respect to being involved in the day-to-day activities - may not be everyday - but these will include the players we're bringing in, the opportunities presented to the younger players, the progress of the youth academy, while also meeting and encouraging them, meet the coach, meet the players, watch and cheer them and create the bridge between the fans and the players. I've not sat and marked out the 10 things I want to do.
"Of course, I'm nervous also, because I don't want to be all talk, I'd like to be part of this club in a significant way. But, like Gaurav (Modwel) will agree, I need to give it time. We need to give it time. We're on the cusp of a new season, it's just about to be embedded into the system.
"It's about embracing what I'm about to be part of - it's quite a big deal. Hopefully, I'll get to learn, enjoy and maybe involve my two cents. But from next season, I want to be further involved with the club," he emphasized, on his role with the club.
Kapoor also opined that he believes a holistic improvement to the personality and ability of FC Pune City's academy cadre was the need of the day with special impetus on academic education.   
"What I do want to do is give them a platform to pursue their academic education along with their football education," began Boney Kapoor's son.
He further stated, "I think that this will enable them to become well-rounded players more psychologically. It's not that easy and that's what me and Gaurav (Modwel) were talking about. A lot of kids come from different backgrounds. I want to give them a basic foundation of education so that they don't get scared to take on the world. Sports becomes a release of pressure, but I also believe they should be able to deal with that pressure.
"This will allow them to think beyond India. Otherwise one can't adapt. We might have the most talented player but if he's unable to adapt outside India, then what's the point?"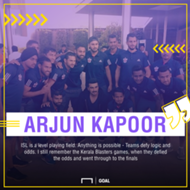 Sending out a motivating message to his new team, Kapoor stated, "Right now, I truly believe that the ISL is a level playing field. Anything is possible, we've seen that over the last three or four seasons. There's no clear favourite, in the sense there might be a favourite on paper, but what happens is that some team exceeds expectations, some defy logic and odds. I still remember the Kerala Blasters' games, when they defied the odds and went through to the finals. 
"Last season, I think Delhi played well despite not performing well enough in the preceding (first) season. So every year the possibilities are endless. We have a longer season, with two new teams, so fitter and fresher players are going to be the order of the day, with lesser stress on the body. I just want to send them a message that THEY have to believe. It's still in our hands. It's made possible by believing in it. If you have the passion, we'll be able to pull it off. "
Relishing the occasion when he'd pit his wits against other Bollywood celebrities, the Stallions' co-owner opined. "I was telling my associates that Ranbir Kapoor and I can't be friends anymore because of the Pune-Mumbai Derby rivalry. I guess my friends will have to wear the Pune derby for the second half and the Mumbai jersey for the first half. 
"I think it's really exciting. In fact, Ranbir mightn't have known about this as he's not in the country and it happened so quickly. It's going to be friendly banter and nice for us. Abhishek (Bachchan) is a co-owner as well, with John Abraham too. So I think it'll be film industry versus film industry more often than not."
A firm believer in the youth policy of the club, Kapoor was asked how quickly he'd like to see prospective superstars of the future from his academy light up the big time in the ISL. A prime example of this is Aashique Kuruniyan, who has risen through the Maratha-based ISL team's as well as the erstwhile I-League team Pune FC's development centres to be a prominent name on the team's final squad.  
Taking his time, the actor explained, "It comes down to if the senior team has a place for these boys yet. If the squad has slightly older players, all waiting for opportunities - they've not gotten their chance yet. Then the boys are going to come in and occupy the bench. It doesn't make sense. These boys have to be playing continuously, at a certain level, engaging on a day-to-day basis to learn.
"Senior team opportunities will come when the players are ready for it. Even if the opportunity does come tomorrow, if you're not playing well enough or if you're not equipped to handle it, then you aren't going to be able to grasp it with both hands. 
"Having said that, I think it's every person's dream to play for their country. The younger they start the better it is obviously. However, I think it's more important to look at a five or ten-year agenda. The way I look at it, in the boots of an owner now, I would like to put out those kids that have a future even 10 years down the line and not propagating a mere flash in the pan thing.
"It's about grooming them to survive the pressure and the rigmaroles and to hone their talents correctly with the right coaching and guidance."
Finally, Fubu, as he is lovingly called in the industry, had warm words for his multitude of fans in the cultural melting pot of Pune.
"Pune is the epicentre of all the cosmopolitan nature of India. The youth comes in from all parts of the country, studies there and makes the city their own. It's the hub of colleges - of education - and of all the proud Maharashtrians who live over there. I think it's an amazing composition of culture and cool. I'm hoping that they decide to give FC Pune City love, support and create a fan-following that goes beyond just one season.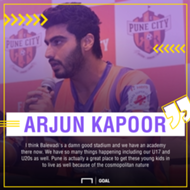 "I think I would love to embed into them that this is here to stay. What happens is a lot of people don't take out the time or effort because they don't know if this is worth following. They look at it and look away- it's a one-off. I want to convince and make them believe that we're here to stay and we want to build. 
"I think Balewadi's a damn good stadium and we have an academy there now. We've got a women's team happening. We have so many things happening including our U17 and U20s as well. Pune is actually a great place to get these young kids in to live as well because of the cosmopolitan nature. So for the footballers too, it's a great place which isn't as hectic as the city life with respect to Mumbai. It's got the perfect culture for youngsters to develop as well. I'm hoping to make the fans and the club connect because that's why I'm here," he concluded.