Indian Super League
ISL 2017: Mumbai City's Alexandre Guimaraes on Sunil Chhetri's absence - We have Balwant Singh now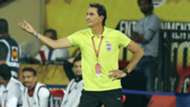 Alexandre Guimaraes mentioned that he was aware of Sunil Chhetri's decision to stay with Bengaluru FC as one of their retained players. He acknowledged that while they shall certainly miss his services, in Balwant Singh they have another top notch striker who is in-form going into the season.
"Of course Chhetri missing is a big deal, but I knew he'd chosen to be there in Bengaluru and we had to move forward. We were lucky in the draft with Balwant and we were satisfied with him. I'm happy to have Balwant and I was happy to be with Sunil. It's the national team's headache now on who will start in the team," said the 58-year-old.
He expressed his delight to be afforded another chance by Mumbai City FC management to guide them a step further and win the ISL title. This is in fact the very first time that the club has extended or renewed the contract of a coach in their short history.
"I'm glad to be in Mumbai. When you have a good experience, time and a board which gives you want to compete well alongside good fans and of course a group of players who believe what you are proposing to them, then my decision was easy. It was a very easy answer when I received the invitation to come back to Mumbai. I'm here back to do the best we can and win the championship for Mumbai," he announced.
Mumbai retained the services of Amrinder Singh and Sehnaj Singh from last term before the ISL draft and Guimaraes was asked to share his thoughts on the same.
"When I talked to my CEO (Indranil Das Blah, I mentioned that we need to keep the core players that helped us to be very strong defensively. They understood that and that's why, with the nice experience they had altogether, the players came back again."
Guimaraes opined that with the kind of players he has at his disposal, Mumbai City FC can alter their style of play depending on a particular situation.
"Last season we tried to build a collective game. I think we did it well. Maybe with different characteristics of these players, at least in pre-season it looked nice. Let's see now as to how you can really perform.
"I think that this year we have a squad capable of changing the style with respect to last season. Last season we had different kind of players. This season with the players we have, I'm satisfied. I think we can change the style from one to the other. My pre-season reading of the team was good around that."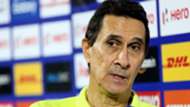 "When you have the possibility to have a second chance, you are willing to delete and go forward. This is something that the organization, some players that stayed, myself and my staff has the first thing in mind. Why not? But, we also know that things are going to be different in terms of, we have to rebuild the team. Other teams are also not the same. But at least our aim will be to do better and qualify for the play-offs."  
The former Costa Rica national team coach highlighted that he has a varied type of players this season which empowers him to choose the brand of football they will prefer to play.
"I feel that the players can make a difference. Thiago (Santos) is a different kind of player who can be the difference. Marcio (Rosario) is also a different kind of defender. Now it is going to be hard to take one of them out of the six as only five can play. In the pre-season they have all shown me that they are eager and have come to play," he mentioned.
Guimaraes stressed that the Indian contingent usually picks good habits from their foreign team-mates which only helps them professionalize even more.
"The impact always has to be, what those players impart to the local players of that country in terms of their learning and improvement. My experience last season, watching all the foreign players, our foreign players had a fantastic impact on the local players. The local players learn a lot from them about their practicing style, their eating habits, their resting schedule. So this is definitely good. A lot also depends on how well the organization is dealing with them," he signed off.
Mumbai City FC take on Bengaluru FC in their very first ISL game at the Kanteerava Stadium, Bangalore on 19th November.