Indian Super League
ISL 2017-18: Steve Coppell credits experienced midfield for Jamshedpur FC's win over Kerala Blasters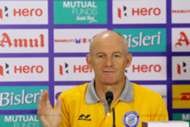 Jamshedpur FC registered their first ever win on home soil as they downed Kerala Blasters 2-1 on Wednesday.
Jerry Mawihmingthanga scored the fastest ever goal of Indian Super League (ISL) 22 seconds after kick-off to give his team the lead. Former India international Ashim Biswas doubled the lead in the 31st minute. Blasters pulled one goal back through Sifneos' header in the 93rd minute. 
It was also an auspicious occasion for the owners of Jamshedpur FC, Tata group, which completed 150 years in the business industry. On asked if the win is dedicated to the company, coach Steve Coppell said, "I dedicate to anybody who wants a part of it. We were made aware of 150 years of TATA with our shirts. It was a really good atmosphere with the supporters who came out on a cold night to watch us. We are thankful for that. Most importantly, the win is dedicated to the players who worked so hard. They were conscious of not having won at home so they did put a big effort."
It took Jamshedpur FC five matches on home soil to register a win but Coppell refused to call the dismal home form a jinx.
"It is no jinx. There were reasons why (we didn't win earlier) in the games where we were very close. The pitch was better tonight which makes a difference. We got our noses in front which helps an awful lot. The main reason was the focus of everybody to try and win the game. It is never a jinx - you win and lose for reasons. The level of focus was the reason which made a difference to us," said the British coach. 
When asked about his tactics, the gaffer said, "No, when you get 2-0 up, that makes a difference as it affects your mentality. It's a dangerous score. We shrunk a little bit, perhaps. Again, we had a couple of players who haven't played a lot of football- Ashim (Biswas) has got a great goal but he hasn't played a lot of football so he was feeling his legs. Raju too had exactly the same issue. This is the start of a very congested period for us- five games in fifteen days so we've got to spread the load a little bit more in the squad so we need to introduce more players into the team as these games progress. We didn't change the strategy; it's human nature when you are 2-0 up, you feel you should protect rather than find and score another goal."
New signing Wellington Priori made his debut for the Men of Steel tonight. The Brazilian had an impressive debut as he paired up with compatriot Memo in central midfield. The Brazilian duo was instrumental in creating quality chances for the attackers as a well as acting as a screen for the backline. 
On asked about the midfielder's performance, the coach opined, "He is a player we would have liked a lot earlier. We focused on him a while back (but) for various reasons we couldn't sign him as he wasn't available until today. He's a good player as you saw, he's strong and can keep possession which is very important on that pitch. Nice combination with Memo and in the first hour of the game. Later, Mehtab came in and did a good scraping job in there. Memo was consistent all year; he's been terrific. To have more experience in the midfield, made us a bit more solid," concluded Coppell.