Indian Super League
ISL 2017-18: 'No need to spend high' - Shrewd Chennaiyin FC deserve credit for play-off qualification!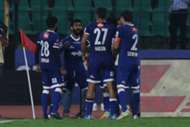 When Delhi Dynamos trounced Mumbai City FC 5-1 on Tuesday in Delhi, celebrations kicked off in the South Indian city of Chennai. The result had meant that Chennaiyin FC qualified for the Indian Super League (ISL) semifinals. 
After the disastrous 2016 season where they finished second from bottom, it must have been a huge relief for the team management to have nailed down one of the four playoff spots with a game left to go in the league stage. 
What is noteworthy about Chennaiyin FC's qualification is the fact that they have not thrown around the big bucks like many of their competitors have and still managed to nail down a place in the final four. 
Chennaiyin FC spent only ₹13.4 Crores on their squad, which was only the sixth highest among the 10 ISL teams at the start of the season, going to show that spending wisely is what matters, not splashing money on big signings. 
After the winter transfer window where FC Pune City indulged themselves, Chennaiyin FC's net spend has been pushed back to the seventh spot. Pune City brought in Marko Stankovic and Lolo while they got rid of Damir Grgic and Robertino Pugliara. They also had another player on their radar, Jamaican Dane Kelly, but they could not register him. 
The efficiency and decisiveness of Chennaiyin FC's actions with respect to player recruitment can be gauged by the fact that they have not had to chop and change their squad through the season. Most other teams have had to delve into the winter transfer window and bring in replacements and reinforcements. Several teams even recruited young Indian players midway through the season after finding the going tough. 
In Bengaluru FC's case though, they had to sign replacements because of injuries rather than poor initial recruitment.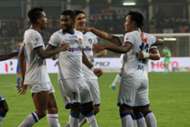 The Marina Machans had a clear vision going into the season with respect to the kind of players their coach required and executed their plans very well. The owners of the South Indian team deserve credit for putting together a committed management which has worked wonders with the budget they had. 
It goes on to show the lack of homework that has gone into player recruitment by many ISL franchises who have shelled out money without ensuring they are getting value for their spend. Chennaiyin remain a shining example in that aspect, judging by what we have seen this time around. 
Every single one of their foreign contingent, possibly with Jude Nworuh an exception, have played a crucial role for John Gregory's team during the season. 
Moreover, Chennaiyin FC did try to keep their core together which has paid off dividends. Jeje Lalpekhlua and Karanjit Singh were retained while promising youngsters like Anirudh Thapa, Jerry Lalrinzuala and Baoringdao Bodo were also not let go. Thapa and Jerry have gone on to have solid seasons this time around. 
Their clarity and long-term vision are also evident in the fact that they had Raphael Augusto, a proven performer in the ISL, all signed up on a multi-year contract last season itself. He has gone on to be a creative outlet in midfield this season, as was expected of him. 
Germanpreet Singh had been on the radar of Chennaiyin FC for quite a while now and they managed to finally sign him up during the Indian player draft before the season, another example of their long-term planning. 
Another feather in Chennaiyin FC's cap has been the fact that they have had 11 different goalscorers this season - something no other team has managed. 
Now, they find themselves in the semifinals and can start dreaming about repeating their 2015 heroics. Whether they can do that or not remains to be seen but as of now, Chennaiyin FC deserve immense credit for the way the efficient player recruitment strategy which has involved spending wisely.