Indian Super League
ISL 2017-18: Derrick Pereira - FC Goa will not change the style of play against Bengaluru FC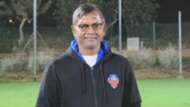 Sergio Lobera, the head coach of FC Goa, believes in the philosophy of out-scoring the opponents but a leaky defence has let them down many a time this season.
They are all set to take on Bengaluru FC that boasts a formidable attack with the likes of Miku and Sunil Chhetri up-front and have already scored 28 goals in 14 matches. But Derrek Pereira, assistant coach of Goa, insisted that they would continue to follow the same style of play irrespective of the result.
"We play as a team following a certain philosophy and we will stick to that. We play possessional football but due to errors at the back, we have been conceding goals. But as I said we are not going to change anything," said Pereira.
 The former Mahindra United coach does not believe that having more games in hand is an advantage for Goa and instead will look to focus on one game at a time.
"We will be focusing on each match with a bid to win it. We are not seeing the league table or the number of matches we have in hand, but completely focusing on our next match. 
"I think two top teams will be playing tomorrow. The last leg was the best game of this season till now, according to me. I can say that we will put up a good performance tomorrow, and hopefully, we will get a good result," stated Pereira.
The Goan assistant coach seemed quite impressed with their next opponent as he showered praise on Albert Roca's men.
"Bengaluru FC started preparations earlier than most other teams. They have a settled team and have very good depth. They can rotate well as they are playing Indian Super League (ISL) and Asian Football Confederation (AFC) Cup. They are doing well both on and off the field. That is the reason they are on top," reasoned Pereira.
The coach also updated that striker Mark Sifneos is expected to be back by tonight (Thursday) and might feature in the starting eleven against Bengaluru. 
Pereira also highlighted that Goa has been really unfortunate as some key decisions at critical points of the match have not gone their way which led them to lose some vital points.
"Some key events during some matches have not gone our way. Seriton (Fernandes) had to leave the field against Mumbai, because of a red card and in the next match against NorthEast United Brandon (Fernandes), one of our key players got injured. These have affected our performance adversely. But tomorrow is a different game and we will approach the game in a positive set of mind," said Pereira before signing off.