Indian Super League
ISL 2017-18: Chennaiyin FC's John Gregory - Haven't complained about anything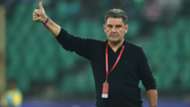 Chennaiyin FC have made it into the play-offs for the third time in four years and coach John Gregory pointed at their record against the 'big' teams away from home as one of the reasons for their qualification. It must be mentioned that the Super Machans have defeated Bengaluru FC, FC Goa, FC Pune City and Jamshedpur FC on the road this season.
"We have actually played all the top placed teams away and won. If you look at the record of the top-four teams this season, they have all done very well on the road which is unusual. In the Europe, you tend to utilize home advantage but here, it has been different. So, it doesn't matter to us if we get to play the first leg or the second leg at home. We will take it as it comes. Our attitude has been good. We have not complained about anything and got on with the game. I got a ban but we got on with it. Our attitude has been first class," said Gregory.
The Vita Dani co-owned franchise are to play Mumbai City FC in what will be their final game of the league stage. Gregory mentioned that he would hand several players who haven't got much game-time to showcase their talent. He urged the 'fringe' players to put up a strong case for themselves if they re to bring themselves in the reckoning for a berth in the first eleven.
"It is a big game for us. The players are playing for spots in the semi-finals. It is up to them the way they go about the game. We want to finish the game strongly. The previous 17 games have been very well contested and we have made our mark this season. I'm so delighted that we have secured qualification with one game left. We have to go about it in a professional manner.
"I've got an amazing group of professional players. Really incredible and I've not really known such a professional bunch in my entire career. They deserve all the plaudits they are getting at the moment. There are a few boys who have not had much of a game-time and they have been so supportive of those who have got chances. We've had all of my players fit for all games, mostly. The guys who have sat there and watched have been brilliant. So, I will make some changes tomorrow (Saturday) and give some game time to some of those boys. They thoroughly deserve the chance.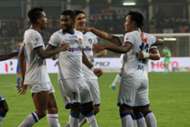 "I've also had difficulties picking the bench, not just the starting XI. In the past, some teams have given chances to fringe players in such situations and they have done well and then gone on to feature in the play-offs. So, this is an opportunity for them."
Gregory pointed that his team is mentally strong and the late goals they scored is very much a testament.
"We have had lots of obstacles in our way and managed to overcome them. So we will get on with the game and hopefully, we will not concede first. It is not something I am worried about. This group of boys can overcome anything. Mentally, we are very tough. We are a team who have scored a lot of late goals and we have not given up on any cause. I don't expect that to change. 
"Once this game's out of the way, we will look forward to the play-offs. We are just incredibly happy that we are in the last four. That was our initial target. If you get in the play-offs, you have a chance (to win)," signed off the experienced coach.