Premier League
Is the Mourinho - Pogba battle reaching the endgame?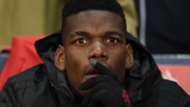 There had been 84 minutes played when Marcus Rashford scored Manchester United's fourth goal against Fulham. He earned what was about to come his way after a diligent and productive afternoon.
The net had scarcely settled after Rashford's shot hit it when Jose Mourinho called for a substitute, the only one he had remaining following the usage of Marcos Rojo and Fred.
Marouane Fellaini and Paul Pogba had been warming up together during the second half as United combatted Fulham's comeback attempts. Mourinho walked into the throng of players and associates on the United bench and came out with Scott McTominay.
In the ongoing battle between Mourinho and Pogba, the young Scot has often been used as a proxy. He was the one chosen to start against Huddersfield last season when United won 2-0 and Mourinho first made a big impact in dropping the club's most expensive player to the bench.
He was used again a few weeks later ahead of Pogba in Seville in a move that jolted most observers. And on Saturday, his 22nd birthday, he was gifted a late run out ahead of the French World Cup winner.
The game was won by that stage; United were given the platform they needed to win by a hard-working engine room of Nemanja Matic and Ander Herrera.
Matic - it must be said - is playing a lot better without Pogba around.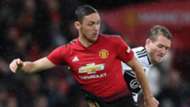 Pogba loses the ball more often than the Serb, who usually ends up covering for him by trying to win it back. Matic excelled from deep. His distribution was high-class throughout. Herrera, meanwhile, is a technically-sound and aggressive footballer, perfect for scampering around a Jose Mourinho midfield. United, finally, looked the part.
This was their best performance of the season and that level of performance got the result it merited. It can't be easy from a confidence viewpoint at the moment considering that the last time they won a Premier League game was at the start of November and since then they had not only failed to beat Manchester City and Arsenal but also Crystal Palace and Southampton.
The last thing Mourinho and United could face would be a slip-up against the league's bottom side. But they got the job done and in some style too.  And this was not a gritty, hold-on-for-dear-life effort. This was proper football. United made chances - overwhelming Fulham in the first half - and scored good goals.  All four goals, in fact, were created in that pocket of space high on the left of United's midfield we were taught was Pogba's best position.
Ashley Young ran from roughly that area, past Denis Odoi, to score a belting opener. Romelu Lukaku dropped off the frontline to that sector and fed Rashford, who supplied the second for midfield runner Juan Mata. Jesse Lingard slipped a gorgeous pass into Mata from that side of the field and the Spaniard laid on an easy third for Lukaku. And it was from there that Rashford conjured a powerful finish near the end.
In all United created double the number of attacks from the left side of the field than they did from either the central or the right-sided positions. Diogo Dalot, for the record, did very well down the right side and was unlucky not to come away with at least one assist.
This, you feel, is how Mourinho wants United to play. It might not be his strongest team in terms of personnel - Anthony Martial and Luke Shaw could well feel entitled to start in that - but in terms of the manager's preferences this is the ideal picture of the United he seeks.
It's not so much a question of ability, quickness of thought or anything like that. It is primarily attitude, and that is why Mata, Herrera, Lingard, Fred, McTominay and, presumably, Fellaini are all ahead of Pogba in the pecking order for one midfield place or another.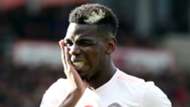 "He has to play with the same mentality as the rest of the team is," Mourinho said after of Pogba's absence. "Paul can be a fantastic player, he is going to start against Valencia and he will have a fantastic game to play to show everyone how good he is."
But it's easy to wonder now if we've entered the endgame between them. It's no secret there have been tensions behind the scenes. It was leaked last week that Mourinho described Pogba as a "virus" in the United dressing room due to his laxity and his propensity to surrender possession of the ball cheaply.
If it were merely a case of ability then Pogba would be in this team; he would be in any team. But it's now clear that he is not the player Mourinho wants him to be. And however delicate Mourinho's situation is at United, he is still the boss.
Pogba has importance for United stretching far beyond the confines of Old Trafford. He is their star attraction and their most popular player. He is integral to executive vice-chair Ed Woodward's blueprint to dominate the football world in endorsements, official partners and corporate hook-ups. But there is a fundamental disconnect between that employee of Manchester United and his direct superior, Mourinho. Woodward went some way towards hiring them both.
He is - for now - persisting with Mourinho. Whether that's because he believes in him, whether it's too expensive to sack him, whether there is a lack of current, viable alternatives or whether it's simply pointless with United stranded from all their objectives, well, that's not known for sure outside the United boardroom.
But so long as Mourinho is on the bench it would appear that there would be no space on the field for Pogba, not unless something drastic happens.
Pogba could well end up leaving United before his contract expires; it's no secret that his agent Mino Raiola was tempting buyers last summer but found no-one willing or able to fund a purchase.
These are different days now however. And if United, with Mourinho at the helm, have indeed turned a corner following the Fulham win then Pogba best get used to life in the shadows or set about getting back in his manager's favour.