India U19
India U-19 go down to Serbia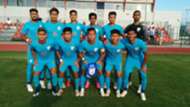 India U-19 suffered 0-2 defeat to Serbia U-19 in a friendly fixture at the training centre of the Serbia Football Association on Thursday. A first-half spot-kick by Radivoje and a neat finish late in the second-half by Kostic ensured a win for the hosts. 
It was a promising start for India, as striker Aniket Jadhav threatened to score in the early minutes. Aniket tested the goalkeeper's gloves as early as the second minute of the game to set the tempo of the match. 
Within the first 10 minutes, the visitors suffered their first setback when defender Akash picked up an injury. He was replaced by Asish. 
As the match neared the half-hour mark with the deadlock intact, Aniket unleashed a powerful effort that looked destined to hit the net. The opposition goalkeeper pulled off a fine save to deny India a lead. 
Minutes later, Serbia struck at the other end to take the lead. Jitendra's handball inside the box was penalized by the referee and the spot-kick was dispatched by Radivoje. 
India upped the ante in the final minutes of the game. Boris Singh's pace on the flank troubled the opponents but the Serbian defenders were up to the task whenever the ball entered the box. 
It took a terrific last-ditch challenge to prevent Aniket from taking a free aim at goal after he was released into space by Anwar in the 77th minute. 
Serbia settled the outcome of the match with a second goal soon after. A quick breakaway led to a one-on-one scenario involving Kostic and Prabsukhan Gill and the former put the game to bed with a neat finish. 
India managed to create plenty of chances throughout the match but they found a goal hard to come by and the match ended in favour of the hosts.