India U16
India U-16's Ridge Melvin Demello - We have been working hard for AFC U-16 Championship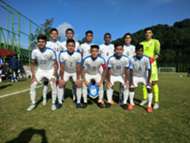 India U-16 national team forward Ridge Melvin Demello impressed the scouts when he turned out for the state team of Madhya Pradesh in India. He was then called up for the trials of the national team and several months later, he finds himself in Malaysia preparing for the 2018 AFC U-16 Championship. 
The journey has not been easy for the teenager. The Madhya Pradesh-born talent was treading unchartered waters as he tried to balance football with his academics. It was a difficult choice to make for a kid hailing from a middle-class family background. But then he chose to not give up on his passion. 
"It is very hard to balance football as well as studies. It's quite hard but we have to try and balance because football is our passion and we all want to play," Demello told Goal. "I am also thankful to the All India Football Federation (AIFF) for sending me home as and when possible to attend my examinations and come back. They gave me the break so that I could study."
The 16-year-old striker thanked Bibiano Fernandes for taking care of him and honing his skills. "He (Bibiano) has taught me a lot of things. He is a very hardworking coach. It is not easy to take care of so many kids and train them."
There is a lot at stake for Bibiano's young Indian colts at the AFC U-16 Championship. A top-four finish would guarantee them a place in the 2-19 U17 World Cup. 
"Everything we have been doing is for the AFC (U16 Championship). We have been preparing, going to a lot of countries, playing different teams. So we have been working very hard."
And India are up against three strong teams in Vietnam, Iran and Indonesia but Ridge feels can matchup their opponents. 
"I think Iran (are the strongest in our group) maybe because they were finalists last time but we have worked very hard so I think we can give our best too. Our main aim is to qualify for the (U17) World Cup (next year) and of course, to win the AFC (U16 Championship) also."
Alongside the likes Vikram Pratap Singh, Ridge Melvin Demello will be expected to score the goals at the continental competition. He has delivered during friendlies but the real test is close.