India U16
India U-16's Shanon Viegas: There is no joking around with Bibiano Fernandes!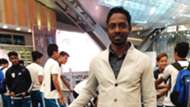 Shanon Aleixinho Veigas is another one of coach Bibiano Fernandes' finds for the India U-16 national team. The midfielder, who loves to take shots from distance, is a key component of the coach's plans at the AFC U-16 Championship.
The 16-year-old Goan started playing football at the age of seven. With the support of his father, his interest and passion for the sport grew. 
"My father is a fan of football. He gave me the interest of playing football and when I started playing, I really loved it and since then I have never stopped from playing," Viegas opened up to Goal. 
Bibiano scouted the youngster when he was playing for the Goa state team. He hasn't had to look back, thanks to the coach. "As a coach, Bibiano sir is very different. He is a hardworking coach.
"He is very focused in his work. He is always thinking about the players. I mean he is always focused, there is no jokes and all.
"We always try and concentrate whenever he is there. We are all focused and he has trained us very well. We have fun games also and he joins us to play as well and we feel good about it. He was a player and we like the fact that the can play with us, not only just coach," Viegas revealed.
India U-16 will be playing previous edition's runners-up Iran, AFF Champion Indonesia and Vietnam in Group C. Viegas believes they can get a positive result from the three group games.
"We have played against bigger teams and Indonesia as well. We have played against the USA, Norway (also) and several European giants and we are (very) much comfortable."
Shanon's strength is his height. At 6.2 ft, he can be dominant inside both the boxes when required. But despite his height, Shanon likes the ball at his feet. 
"I play as a midfielder and my height gives me the advantage when heading. Using my body a lot gives me a good advantage I feel. Thanks to God.
"I am player that doesn't play much of an aerial game. I am very good with my feet. (Height) is an advantage but my style of play is using my feet, getting the ball and doing a few skills."
"Our physio said I am still small. He talked about my physique and he said I will grow further. He told me that I will be unstoppable because of to my growth. I am working very hard right now and this hard work will pay off in the future."
Shanon Viegas is all set to put his ability to the test at the AFC U-16 Championship in Malaysia.