Premier League
'I'm 35 and tired!' - Man Utd striker Ibrahimovic's longevity hailed by Vidic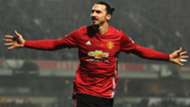 Zlatan Ibrahimovic's persistent form and fitness is leaving an enormous impression on Manchester United icon Nemanja Vidic.
The Swedish striker, 35, arrived at Old Trafford in the summer of 2016 with questions being asked of his ability to adapt to the Premier League in the latter stages of his career.
A supremely confident performer, Ibrahimovic quickly set about silencing any critics and becoming a talismanic presence at Old Trafford.
He has netted 28 goals for United across all competitions, with a man of the same age who is now enjoying his retirement paying homage to the longevity of a firm fans' favourite.
Who Man Utd should sell this summer
"I always knew that he was a top player," Vidic told United's official website.
"I played a few times against him - he has played at different clubs, won many trophies and scored goals everywhere so it was not a surprise to me that he is scoring goals.
"But to be 35 years of age and fit to play every match… English football is different but he adapted fast and in general he has been consistent the whole season so I am really impressed by him especially the mentality that he still has and the hunger to play and score goals.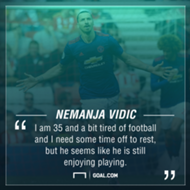 "At 35 years of age that is not easy because I am 35 and, to be fair, I am a bit tired of football and I need some time off to rest, but he seems like he is still enjoying playing football and that he feels good on the pitch.
"It's good for the club and I hope that he will continue to be fit and will perform like he has been for most of the season.
"I admire his presence. He is good with the ball and he is good in the build ups and of course when he is in the box he is a threat.
Giggs: Man Utd over-reliant on Zlatan
"To be fair he was never counting on speed as a player and that is a positive sign that he can do well again next year." 
Ibrahimovic is yet to commit to another season with United, as his initial 12-month deal runs down.
Vidic, though, clearly believes that an agreement will be reached, allowing Jose Mourinho to benefit from his many talents again as the Red Devils continue to chase down major honours.