Transfers
'I'd love to return to Spain' - Mexico's Ochoa eyes La Liga move
Francisco Rico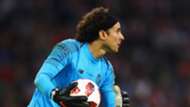 Mexico goalkeeper Guillermo Ochoa says he would like to return to Spain after seeing a move to Italian side Napoli fall through earlier this year.
Ochoa started Standard Liege's Europa League clash with Sevilla on Thursday, which ended as a lopsided 5-1 victory for the La Liga side.
The 33-year-old goalkeeper has been the club's starter since joining in July 2017 on a two-year contract.
Ochoa was heavily linked with a move to Napoli during the summer after starring at the World Cup, but his lack of a European passport dashed his hopes as the club opted for David Ospina instead.
Now, the Mexican international is eyeing a return to La Liga after previously featuring for Granada and Malaga during his three-year stay in Spain.
"With Napoli, it wasn't because of a personal thing or because I didn't have the quality," Ochoa said following Standard Liege's loss on Thursday. "I'm happy about that. The president didn't want to let me go. He didn't want to negotiate or respond to Napoli, but when the decision isn't in your hands, it's complicated.
"I'd love to return to the Spanish league, to play in the best leagues, and that's the idea. Hopefully that change can be made soon."
Ochoa has been a fixture in the Standard Liege lineup since joining the club, starting 38 of a possible 40 matches during his first season in Belgium.
His star season came on the heels of a campaign where the Mexican played every minute while on loan with Granada, earning honors as the fans' Player of the Season.
Now playing in the Europa League, Ochoa is enjoying playing at a higher level as he sets his sights on a big move sometime soon.
"Apart from the result, I'm happy to play in these kinds of tournaments," he said. "It's a challenge and a personal goal to do it, so I'm happy and trying to enjoy it.
"Hopefully I can enjoy it more going forward with a victory. Today, you face a team like Sevilla, who you know is the favorite, who you know is the one who has to go out to try and win the game.
"Coming to Spain, here to the Sanchez-Pizjuan always is special, and being in Andalucia as well."
Ochoa has 96 total caps for Mexico.