International Champions Cup
International Champions Cup: Catch PSG LIVE in action in Singapore!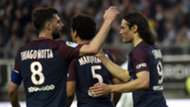 Haven't you always wanted to see your favourite football stars in action LIVE? 
The 2018 edition of the International Champions Cup is coming to Singapore with three of Europe's biggest clubs in tow. 
French champions Paris Saint-Germain are set to compete for the prestigious trophy with Europa League champions Atletico Madrid and English giants Arsenal. The three teams will play each other at the National Stadium in Kallang, Singapore. 
PSG will take on Arsenal on July 28th before pitting their wits against Atletico Madrid on July 30th. 
With some of the biggest stars in world football in their ranks, the fans should be in for a treat. 
Do not miss out on a great chance and book your tickets for the tournament NOW!