Churchill Brothers v Mohun Bagan
I-League 2017-18: Churchill Brothers' Alfred Fernandes: The next two matches will make or break us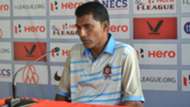 Placed fourth on the table, Kolkata outfit Mohun Bagan will face Churchill Brothers on Saturday evening at Goa.
The fixture has always had some significance attached to it. When asked if the rivalry is still alive despite the below-par performances of Red Machines, head coach Sankarlal Chakraborty answered, ''I still believe so despite the ups and downs. Churchill Brothers are one of the biggest clubs. In the initial phase of the league, they were tired. Later, they changed some foreigners and played some excellent matches. But somehow, again their players got injured. So they again made changes. This shows their aim and ambition is always high.''
The Goan outfit recruited two foreigners - Frincis Onyeama and  Jeancy Zunapio - to replace Koffi Mechac and Ogba Kalu. Chakraborty believes that the duo will trouble his side.
"Our approach is to win three points. Tomorrow will be a tough match because they have changed their foreigners. At home, we won 5-0 but now the situation is totally different.''
Further, he added, "All players are available and I shall hopefully play the same team which played against Indian Arrows.''
On the other hand, Churchill Brothers head coach Alfred Fernandes believes that their earlier clash with the Mariners (5-0) wasn't the same like the one would be on Saturday. ''We conceded five last time but that was the previous Churchill side which didn't have quality players except my captain. Now we have five quality foreigners and also local players have been added,'' he explained.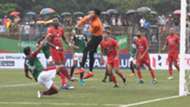 Discussing the team news, Fernandes revealed that Wayne Vaz has a knock on his knee and might take until the next match to recover. Apart from him, the core of the team will stay intact. Further, he expressed his faith in newcomer Jeancy Zunapio, who failed to find the net in the last fixture.
''Jeancy Zunapio has been training with the team now and a week has passed. Hopefully, he will be giving his best tomorrow. It will take time for him to gel but he will give us goals,'' commented Fernandes.
The Goan side is currently placed ninth in the league standings with 17 points but they have two matches in hand. They are competing with Chennai City to avoid the drop. The southerners are currently placed eighth with 19 points in total, having played all their matches.
Speaking of the situation, Alfred stated, ''The fate is in our hands. If we win our remaining two matches, we will be in the Super Cup. The two matches will make or break us. The players are motivated and we will fight for whatever points are at stake. Maybe three points will secure our place in the I-League,'' he signed off.