Mohun Bagan v Churchill Brothers
I-League 2018-19: Mohun Bagan's Sankar Lal Chakraborty - Defeats are part of the game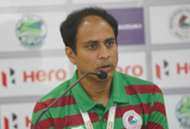 Mohun Bagan were handed a 3-0 defeat at their own backyard by Churchill Brothers on Sunday evening. A brace from Willis Plaza and another from skipper Dawda Ceesay helped Churchill pick up their first win on the road in the ongoing edition of I-League. 
But Bagan coach Sankar Lal Chakraborty does not think there are enough reasons for the club to ring the alarm bells just yet, pointing that it was only the club's first defeat of the season. 
"It is part of the game. You have to face the challenge. Sometimes (a defeat) it happens. It is difficult to say at this point in time where we went wrong. Why can't we win (the I-League)? Everything will be alright. I am not a fortune-teller. (But I) hope for a better performance in the next couple of games," said the coach.
Sony Norde got the first start of this season but apart from a few flashes of brilliance, the winger remained ineffective for large parts of the game. But Chakraborty was quick to defend his Haitian winger, stating, "He is not god!"
Dalraj Singh who had a good outing against Real Kashmir was at fault for at least two of the goals. But the coach sprung to his defender's defence. 
"Mohun Bagan in its 125-year history has played with many domestic defenders and in many occasions have conceded three to-four goals. We have to work on the defensive lapses in the training field. I tell things to the media differently than what I tell my players. I might have said we are underdogs but the talk in the dressing room it is different. They might read the papers but they know what to understand and what not," stated the coach.
On the other hand, Churchill Brothers' coach Petre Gigiu was ecstatic after his side thrashed the Kolkata giants. 
"We didn't think that we can win here. Our plan was good. The pressure was not in our court. Today you see what happened. We were playing outside, not at home. We played a team with great tradition. Their players cannot play freely as they have an obligation (towards the fans). I am happy. We did what we spoke before the game," concluded the coach.