Premier League
How 'I'm Forever Blowing Bubbles' became a West Ham anthem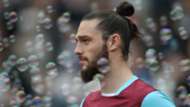 There were fans gathered outside of the Boleyn Ground for its last rendition of 'I'm Forever Blowing Bubbles' at the end of the 2015-16 season. West Ham's last match at the famous venue before their move to the Olympic Stadium was sold out, but supporters without tickets were desperate to hear the pre-match chorus one last time on Green Street.
The song has been associated with the club as long as anyone alive today can remember, with its roots potentially tracing back nearly 100 years. Today, it remains one of the most recognisable pre-match anthems in English football.
How YNWA became a Liverpool anthem
What do we know about how the Hammers came to adopt it?
---
WHO WROTE 'BUBBLES'?
---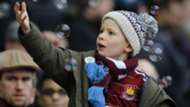 The music for 'I'm Forever Blowing Bubbles' was written in the United States by John Kellette, with the lyrics penned by 'Jaan Kenbrovin' — a pseudonym for the writers James Kendis, James Brockman and Nat Vincent.
It debuted in the Broadway musical The Passing Show of 1918 and became a major hit in America in the late 1910s, spreading to British music halls in the 1920s. It has since gone on to feature in a number of films, including a guitar rendition in Woody Allen's 1999 movie Sweet and Lowdown.
---
WHEN DID WEST HAM ADOPT 'BUBBLES'?
---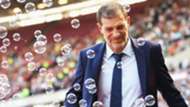 There is no proven account of how West Ham fans came to sing 'Bubbles'. One version of events — with slight variations — is frequently repeated, but its credibility is questionable.
It goes like this: A young player called William Murray, who played for Park School in east London and West Ham's schoolboys team, was nicknamed 'Bubbles' due to his similarity in appearance to the boy in a painting called 'Bubbles' by Millais, which became famous due to its use in a poster to advertise Pears' soap.
One account claims that Murray was given this nickname by West Ham fans who turned out in big numbers to watch the schoolboys team at Upton Park, and who then went even further by giving him his own song. That seems unlikely for a teenage player who never went on to make a first-team appearance.
Another states that he inherited the nickname at Park and the headmaster, Cornelius Beal, took to singing 'Bubbles' when his team played well. Beal knew long-time West Ham physio and eventual manager Charlie Paynter, who would supposedly request that the Boleyn Ground's house band play the tune before kick-off and during half-time, encouraging fans to sing a long. Again, it's not hugely plausible.
Neither story seems particularly convincing, and there are a couple of other possibilities. One is that West Ham fans adopted the song after hearing Swansea City fans singing it at Vetch Field during an FA Cup tie between the two clubs in 1922. There is, at least, documented evidence of 'Bubbles' being sung at Swansea in the 1920s, even if the West Ham link cannot be proven.
The other possibility is that 'Bubbles' was not actually heard with any regularity at Upton Park until World War II, when it became one of the morale-boosting songs sung in shelters during air raids and later transferred to football stadiums. That would tie in with the fact that the first recorded use of the song by Hammers fans was at the 1940 League War Cup final at Wembley.
Definitive proof as to the true story looks to have been lost in history.
---
WHAT ARE THE LYRICS TO 'BUBBLES'?
---
I'm forever blowing bubbles
Pretty bubbles in the air
They fly so high, nearly reach the sky
Then like my dreams they fade and die

Fortune's always hiding
I've looked everywhere
I'm forever blowing bubbles
Pretty bubbles in the air

United! United! United!