Morata
How will Chelsea line up with Alvaro Morata?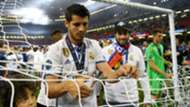 ---
COMMENT
---
Alvaro Morata is set to join up with his new Chelsea team-mates in Asia as he comes in to replace Diego Costa after they agreed a reported £70 million deal with Real Madrid for the striker. 
Morata's move to the Premier League side became official Friday. Conte brought Morata to Juventus before departing to join the Italy national team but he will have a far more experienced striker at his disposal when the Spaniard arrives this time.  
Schalke want to re-sign Baba Rahman
The 24-year-old has won four league titles, four domestic cup competitions and two Champions League trophies in his time at Real Madrid and Juventus. Morata is quick, strong, clinical and techincally gifted but filling Diego Costa's shoes will be a tough ask. 
---
3-4-3
---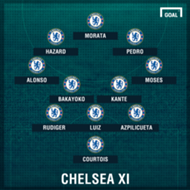 Chelsea's Premier League title winning formation will likely be used again next season and Morata would come in as a like-for-like replacement for Diego Costa. 
Morata is more mobile than Costa but with less physical presence which might mean that he will look to play more one-twos with the likes of Eden Hazard and Pedro. Chelsea could also look to defend deeper with three quick attackers on the pitch.
Bet on Chelsea's Tour of Champions
The Blues would still need Morata to be patient and provide an aerial threat against teams like West Brom - who will likely travel to Stamford Bridge to defend deep.
---
3-5-2
---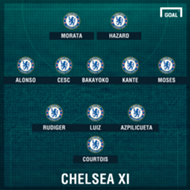 Chelsea switched to this formation a lot last season to bring Cesc Fabregas into play from the bench in the Premier League. Fabregas remains Chelsea's most creative player and has been used to devastating effect off the bench by Conte.
Morata would get to feed off Fabregas in this formation as he sits between the lines. Diego Costa seemed to benefit from the extra service from Fabregas who joined up with the front two on regular occasions, while also providing assists from deeper areas.
---
4-2-4
---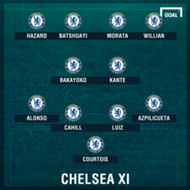 Conte isn't wedded to a back three and is happy to send teams out with a defensive line of four. He favoured the formation that he used at both Bari and Juventus at the start of the season for his Chelsea side as he aimed to line up Michy Batshuayi alongside Costa.
Although that plan was abandoned just a month into the season, Conte may look to implement it again as more suitable players come in. The formation was used on a few occasions in 2017, most notably as Batshuayi came off the bench to secure the Premier League title in a 1-0 win away to West Brom.
It may not have worked with Costa, but Morata and Batshuayi may make a suitable partnership.