Transfers
How Barcelona & Real Madrid missed out on Mbappe
Spanish Football Correspondent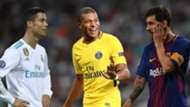 First it was Neymar, then Kylian Mbappe. Paris Saint-Germain shocked the football world in August by signing not one, but two of the world's most exciting forwards. All the while, Barcelona and Real Madrid stood and watched.
On Monday, Mbappe won the FIFA Golden Boy award for the world's best young player, which only makes it all the more surprising that Barca and Madrid did not make more of an effort for his signature during the summer.
Mbappe 22/1 to be CL top scorer
Josep Maria Minguella, an agent with close connections to Barca, claimed last week that the Catalan club could and should have bought Mbappe . "They had him in their hands when it was known Neymar was leaving," he told Cadena COPE .
"I spoke to his father. The boy, when he knew Neymar was leaving, said he only wanted to play for Barca. That he didn't want to go to Paris, or to Madrid, because of the BBC (Gareth Bale, Karim Benzema and Cristiano Ronaldo)."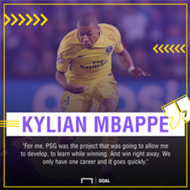 Minguella also added that Mbappe was "crazy happy" at the idea of playing with Lionel Messi, but said: "Barca were just thinking about [Ousmane] Dembele. Dembele, Dembele, Dembele."
The last part, at least, is true. When the Blaugrana found out about Neymar's departure for PSG, the club identified two transfer targets - Dembele and Liverpool's Philippe Coutinho - and spent the rest of the window working on those deals.
Dembele, second to Mbappe in the Golden Boy list, did arrive as part of a transfer that cost an initial €105 million but could yet rise to €150m . The idea was to sign a player who was more a winger than a centre-forward and the Borussia Dortmund player was seen as slightly more advanced in his development than Mbappe.
Barca also pushed for Coutinho until the very end of the window and the thinking behind that transfer was to bring in a player who could double up as a forward and also a midfielder in order to provide cover for the ageing Andres Iniesta. The Catalans saw three bids turned down by Liverpool, but are likely to be back in for the Brazilian next summer.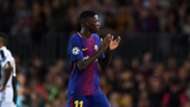 Minguella is an outspoken character and his words should be taken with a pinch of salt, particularly as he also used the same radio interview to attack Barca president Josep Maria Bartomeu. The truth is that Mbappe, although discussed by Barca's board, was never really a transfer target for the Catalans last summer. And coach Ernesto Valverde has also since said he believed there was no chance of signing Mbappe in any case.
In the end, Madrid did not follow up their initial interest in Mbappe, either. The European champions were keen on the player and, during their pre-season tour in the United States, coach Zinedine Zidane said: "He is a very good player. He's an 18-year-old talent and he has personality. But he's not my player, so I can't say any more."
Mbappe idiolised Ronaldo and spent time at Madrid as a 14-year-old, but opted for Monaco instead. There was contact again last summer between the player's father and Real, but concerns over the presence of the 'BBC' made the pair unsure of a move to the Santiago Bernabeu.
Madrid considered selling Gareth Bale in order to facilitate a move for Mbappe, but Manchester United never really followed up their interest and the Welsh winger gave no indication that he would want to leave. In the meantime, PSG were pushing hard to sign Mbappe.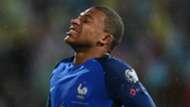 Ultimately, it was the player's wage demands that saw Madrid back off. Mbappe earns around €18m after tax per year at the Parc des Princes and when Real learned of PSG's salary offer for the young France foward, the club were unwilling to break their entire structure for the teenager by paying him more than everyone else except Ronaldo.
Therefore, Mbappe told Monaco he only wanted to join PSG and left the current French champions with little option than to negotiate with the Parisians. And ultimately, the transfer went through, initially as a loan, with a permanent deal for a total of €180m to be paid next summer.
"For me, PSG was the project that was going to allow me to develop," Mbappe said. "To learn while winning, and win right away. We only have one career, and it goes quickly."
At the age of 18, however, there is still plenty of time for the France forward to turn out for either Barcelona or Real Madrid in the future...