Bayern München
How axed Ancelotti lost love and support at Bayern Munich and ultimately his job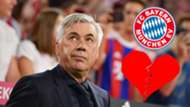 On September 28, 2017, Carlo Ancelotti was ushered through the exits at Bayern Munich having been unceremoniously relieved of his managerial duties.
That decision was taken less than 24 hours after a 3-0 defeat to big-spending Paris Saint-Germain and five months after the Italian had guided Bayern to another Bundesliga title.
Bayern 13/2 for Champions League
He now finds himself without a job amid accusations that he lost the support of certain members of his squad, but how did it come to this for one of the most accomplished coaches in the business?
---
IN THE BEGINNING
---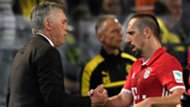 Bayern announced the appointment of Ancelotti as their head coach in December 2015, with a successor quickly identified for Manchester City-bound Pep Guardiola.
The general consensus was that the Bundesliga giants had secured themselves the services of one of the finest man-managers around, with ex-players and so-called experts quick to hail the Italian's ability to bring the best of star-studded squads – having done so at the likes of Milan, Chelsea, Real Madrid and Paris Saint-Germain.
For a while all seemed well, with Bayern opening his reign with a 6-0 mauling of Werder Bremen, leading former favourite Mehmet Scholl to suggest that the Bavarian outfit had broken the chains of Guardiola's regimented rule.
The players seemed happy as well, with France international Franck Ribery telling Goal in September 2016 : "Carlo Ancelotti is a chilled, accessible guy. He loves his players, that's what we realise. He is looking for contact, he laughs with us, he asks us how we are every day. This relationship is important. Ancelotti is a champion in all respects. Otherwise it would be impossible to create such a harmonious atmosphere. That's how you are successful together."
Ancelotti added to Goal a month later on his early experiences : "I found the team was in really, really good shape, good condition and with great knowledge. The foundations were really good so I never wanted to change them. Every coach has his own idea of football so I tried to implement my idea without having a revolution. I know what the team is doing very well because they learned a lot in the last three years. I try to do something new. Sometimes when you bring new ideas the players become more focused, they gain concentration."
At this stage, the playing staff welcomed a new-found freedom on the pitch, along with training sessions which had become less demanding. They were, however, to soon start pining for the more rigorous methods of Guardiola.
---
TURNING POINT
---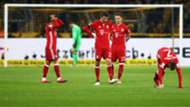 Ancelotti's inability to retain the trust of his players was a slow process, with positive results helping to keep the collective mood upbeat and everybody pulling in the same direction.
The securing of another Bundesliga crown in April 2016 helped to paper over a few cracks, but a 3-2 defeat to arch-rivals Borussia Dortmund in the semi-finals of the DFB Pokal was considered to be a turning point.
Doubts were now being cast over Ancelotti's old school methods and their ability to deliver long-term success.
Players and club management hoped that things would get better in 2017-18, but that soon proved not to be the case – with Bayern suffering an unexpected defeat to Hoffenheim in early September before throwing away a two-goal lead against Wolfsburg to drop more priceless points.
All of a sudden the cracks were there for all to see, with greater attention being paid to divides within the camp – Thomas Muller's claims that he was "not in demand" following a win at Werder Bremen, Ribery throwing his shirt away against Anderlecht and Ancelotti's reluctance to discuss Robert Lewandowski's criticism of the club's transfer policy .
---
REACHING THE END
---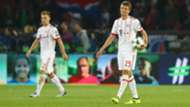 With uncomfortable questions already being asked of his ongoing presence, Ancelotti saw the final nails put in his coffin during a Champions League trip to Paris.
Bayern had an opportunity to lay down a marker in that contest against an emerging force in the European game, but they failed to do so.
Ancelotti only informed his players of his selection shortly before the match, with no explanation offered for the absences of Mats Hummels, Jerome Boateng, Arjen Robben and Ribery .
In the wake of a humbling defeat, the axe came down and club president Uli Hoeness was forced to admit that his manager had lost control of proceedings .
He told Sport1 : "We didn't make this decision because we lost one game. The club saw a development which was heading in the wrong direction over the last few weeks and months. Even that would not have been too bad, but the fact Carlo lost five players in my eyes - Kingsley Coman as well – made the situation impossible. As a coach you cannot have the most important players against you."
---
THE AFTERMATH
---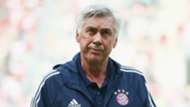 The feeling now is that Ancelotti's faults were allowed to be masked for too long.
Even when his tenure opened with a run of eight successive victories, his side did not perform to the standard expected of them – with individual quality often winning out over tactical mastery.
In contrast to Guardiola before him, who demanded perfection, Ancelotti was seemingly happy to settle for good enough.
He would often tell the press in post-match interviews that he had been pleased with below-par performances, with, in his opinion, too much emphasis placed on strategies.
Ancelotti, it would appear, was blind to opposition he faced, with the 58-year-old always in trouble once he started to lose the support of those at the core of the club.