A-League
'He's not Graham Arnold'- Corica must stamp his authority at Sydney FC, says Ognenovski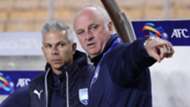 After a shock 3-1 loss to Wellington Phoenix, new Sydney FC coach Steve Corica has hit an early bump in his time in charge of the Sky Blues and Sasa Ognenovski has urged him not to simply copy Graham Arnold.
Having served Arnold as an assistant, Corica now finds himself in the top job and has experienced a mix start having lost the FFA Cup final, Big Blue and fallen to the Phoenix on the weekend.
While it's not time to hit the panic button just yet, Ognenovski has stressed that Corica must assert his authority over the side to ensure Sydney's high bar doesn't drop. 
"For me he needs to put his own stamp on the team," Ognenovski said on Fox Sports' A-League Hour.
"He's not Graham Arnold. Graham Arnold is just on you for perfection constantly and Steven Corica he might still want the perfection - I'm not saying he doesn't - different characters. You feel the pressure of Graham Arnold as a coach, you feel the pressure of his personality on you, that you need to perform, it needs to be perfection.
"I'm not there so I can't say 100 percent but I think the players are sort of, since Arnie's left, it's like the Ferguson effect at Manchester United. Not the same comparisons but 'oh jeez Fergie's gone,' pressure valves off.
"Same players are there, and the ones that they've brought in, probably van der Linden, isn't what they expected, but the other two boys have been doing the jobs for them. So the other guys that have been there, the pressure valves come off and it's like ok we can relax a bit, we've got a bit more freedom with Bimbi, he was the assistant coach last year, so it's just a different mindset.
"So he needs to stamp his own authority and style of play to the team, not follow the plans that Arnie set in place two years ago."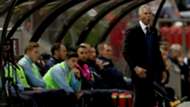 A key part of that will be making changes ahead of the Sydney derby on Saturday with Corica promising after the Nix defeat his starting 11 will change.
"We've got players back which is great, so there will be some changes next week," Corica said.
'We can't perform like that again. Our first-half performances in the last two games were not good enough.
"The guys know that it's happened twice in a row, it needs to change a lot and it will next week."
While marquee man Siem De Jong is likely to be added to the starting side, Mark Bosnich has urged Corica to drop under-performing defender Jop van der Linder and potentially rest Milos Ninkovic.
"The number one change that he needs to make - no disrespect to him - but the bottom line is the last two weeks he gave away a silly penalty against Victory and he gave away pretty much three goals, is to bring in Calver for van der Linden," Bosnich said.
"And he should also strongly consider, it's quite obvious that Ninkovic is not fit, that tackle from Melling from the Mariners is still lingering on.
"If he's not fit, he's going to have to stamp his authority and be very brave as a manager and say look I'd rather have someone who's 100 percent fit."