Aaron Ramsey
'He's an easy target' - Coleman defends Arsenal midfielder Ramsey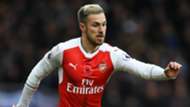 Aaron Ramsey has become an "easy target" for the Arsenal boo boys, according to Wales manager Chris Coleman.
The 26-year-old was snapped up by the Gunners from Cardiff City after bursting onto the scene as a talented teenager.
Mazzola: Alexis perfect for Inter
He was carefully introduced to the first team fold at Emirates Stadium and is now an established senior star for club and country.
Ramsey has not always been fully appreciated in north London, though, with his game often frustrating as much as it excites.
He did reach double figures in terms of goals scored in the 2013-14 and 2014-15 campaigns, but Arsenal's wealth of creative options means he is often shifted out of a natural role in the middle of the park.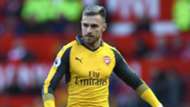 Coleman believes this has contributed to unfair criticism, with Ramsey considered to be a top talent in his eyes.
He told The Sun: "Since he moved from Cardiff to Arsenal he's had one or two people quickly jumping on the bandwagon to criticise him.
Perez finding his feet at Arsenal
"He's an easy target and he's had one or two criticising him but he's a great player."
While he may not be viewed as a key figure for Arsenal, Ramsey is a vital part of the Wales set-up.
He helped them to enjoy a remarkable run to the semi-finals of Euro 2016 last summer, with his absence through suspension keenly felt in a 2-0 defeat to eventual winners Portugal.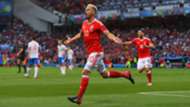 Coleman added: "I'll always wonder [what would have happened] had we had him for the semi-final.
"I know how good he is and how good he was in the tournament. Under that type of pressure against that type of opposition he was absolutely magnificent.
"He's one of the best players I've ever worked with - and I've worked with some good ones.
"When you take that type of quality out of any team then you are going to feel it.
"We definitely need him if we are going to do what we did before."