World Cup
Hero Spirit of 1994: Rashidi Yekini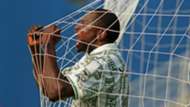 Fresh from winning the biggest crown in Africa, the Super Eagles played at their first ever global event after securing qualification in October 1993.
One man that had the expectation to do the country proud was Rashidi Yekini. He was top scorer at the 1994 continental showpiece in Tunisia as well as the player of the tournament. He was also the highest goal scorer in the qualifiers leading to the competition in the United States, all of which culminated into him being named the best player in Africa for 1993.
It was, therefore, no surprise that Yekini would be the one to make history for Nigeria in the US, scoring the country's first ever goal at the famous summer tournament in their Group D opener against Bulgaria, after connecting with Finidi George's cross.
That was the only goal the then-Vitoria Setubal forward scored in the competition. However, the manner in which he jubilated - gripping the net with so much intensity and saying words no one knows till date, remains one of the most iconic moments in the tournament's history.
Though Yekini sadly passed away in 2012 at the age of 48, he scored 37 goals in 58 appearances for the Super Eagles, making him the country's highest goal scorer, which no player - both active and retired, has been able to get close to.