AFC Champions League
Hectic schedule 'caught up' with Roar against Ulsan - Aloisi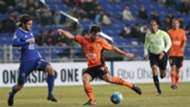 John Aloisi has reiterated his demand that Football Federation Australia (FFA) be more flexible with A-League scheduling following Brisbane Roar's 6-0 loss to Ulsan in the AFC Champions League (ACL).
Brisbane's coach argued his side's schedule "caught up" with them in South Korea on Tuesday night as Mislav Orsic and Kim In-sung both scored braces for Ulsan in a thumping win in Group E.
The game against Ulsan was Roar's ninth in 32 days in all competitions, with Aloisi's team having travelled to Shanghai, Melbourne, Perth and Ulsan during that period, and the A-League club were without four defenders due to injury for the ACL fixture.
The former Socceroos striker has been banging the same drum throughout this period, arguing short turnarounds hurt players on an individual level and the A-League's reputation in general.
"The scheduling's caught up on us," Aloisi told the Courier-Mail.
"I'm sure that the FFA will look into it and make sure this doesn't happen in the future. It's only hurting the A-League and it hurt us definitely [against Ulsan].
"It's nearly impossible if they don't help with the scheduling of the league. They have to sit down with coaches and clubs and make sure that they learn from these mistakes because we will."
In quotes to AAP on Wednesday, Head of A-League Greg O'Rourke claimed there will be more flexibility for clubs involved in the ACL for next season, while he confirmed Brisbane and Western Sydney Wanderers continental commitments will be "factored in" when organising the A-League finals.
"I've been speaking to a couple of others about making sure that we have some flexibility around the ACL draw for next year," he said.
"The only constraint around that will be venue availability."
Wanderers, Roar crushed in ACL
After initially impressing throughout their busy period - Brisbane were unbeaten in eight matches before last week's 2-1 loss to Wellington Phoenix - Roar have suffered consecutive defeats over the past four days.
"Everyone was going on about how good we were and about how strong Australian football is becoming after we won in Shanghai, but they [FFA] can't let it go like this because it's not right for the players, it's not right for Australian football," Aloisi said.
"When we're at our best, we can compete with Asia, but when they make it nearly impossible it's going to be hard."
Roar will have a week off in terms of the ACL next week before they head to Japan for a clash with Kashima Antlers on March 14.