Transfers
Hazard urged by Fabregas to shun Real Madrid and become a Chelsea 'legend'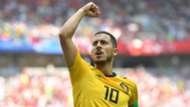 Eden Hazard has been urged by Chelsea team-mate Cesc Fabregas to shun interest from Real Madrid and become "a club legend" at Stamford Bridge.
Transfer talk around the Belgium international is nothing new, with his future having been called into question for some time.
Speculation has, however, built steadily again over recent weeks, with the 27-year-old doing little to curb the rumours as he continues to leave the door open for a summer exit.
Fabregas hopes a long-running saga will eventually be brought to a close which proves beneficial to Chelsea, with a man to have been billed as a potential Ballon d'Or winner of the future still having plenty to achieve in west London.
The Spanish midfielder told The Telegraph: "Eden Hazard has the qualities to be the best, especially now Cristiano [Ronaldo] and Leo [Messi] are getting older.
"He can also be a club legend for Chelsea if he stays.
"All I say to him is it's up to him how far he wants to get because he has all the attributes and he is still at the age where he can be the best with the likes of Neymar and maybe [Kylian] Mbappe.
"Talent-wise he is up there, I have no doubt about it. He's strong, he's quick, he can dribble.
"But I think Eden can score more goals than what he thinks he can. I believe in him more than he does!"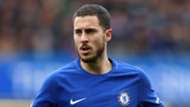 Hazard is currently away on international duty with Belgium at Russia 2018, with it possible that more eye-catching displays in a global shop window will draw further interest from afar.
Fabregas, though, believes that a future call rests solely with the player himself, with it up to him to decide what he wants to do next.
He added: "The World Cup won't decide Eden's future, I don't think.
"Scouts follow you everywhere and he has done more than enough for clubs to see his talent, but I really hope he can stay at Chelsea for many years and become one of the biggest legends in the club's history.
"He has all the attributes and the only piece missing is the Champions League.
"If he won that with Chelsea, then he would have everything at club level.
"If he stays, I'm sure he will be, if not the best, one of the best players Chelsea has ever had and will ever have."