Kayserispor
Gyan 'not ready to retire from football' despite injury concerns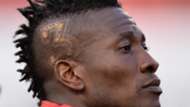 Ghana captain Asamoah Gyan says he is not ready to retire from football amid injury concerns.
The 32-year-old missed the majority of Kayserispor's games last season in the Turkish Super Lig due to a troublesome knee injury and had to accept about 50-60 per cent pay cut in order to complete a two-year extension ahead of the new season.
However, the former Sunderland star appears not to be thinking of hanging up his boots anytime soon.
"Football is all about dedication [and desire] to continue to play and it is there," Gyan told GHOne TV.
"I will only call it a quit once I don't have that feeling anymore to play. When I don't train for some time, I feel I am missing something so the desire is still there and I'm not ready to retire now," he added.
Gyan, who is Ghana's all-time topscorer with 56 goals in 106 appearances, is the first player to score in nine consecutive games including six Africa Cup of Nations and three World Cup competitions.