Guardiola
Did poor English cost Pep Man Utd job? Guardiola remembers Ferguson offer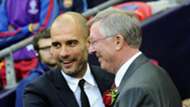 Pep Guardiola has no regrets at having snubbed Manchester United and Sir Alex Ferguson to eventually link up with Manchester City.
The Catalan coach met with the Red Devils' iconic former manager back in 2012 as the Scot was preparing to head into retirement.
Guardiola was taking a 12-month sabbatical at the time after leaving Barcelona and discussed all things football with Ferguson.
He insists that he never spotted an invitation to head to Old Trafford and has no complaints at having ended up across Manchester at the Etihad Stadium via three years at Bayern Munich.
Guardiola told reporters on his meeting with Ferguson: "My English in that period was not as good as it is right now – and so maybe I just didn't understand what Sir Alex told me.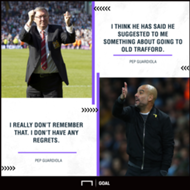 "We met in a magnificent restaurant for dinner and I think he has said he suggested to me something about going to Old Trafford.
"But I really don't remember that. We spoke about life, about football, about the Premier League, I remember.
"But there was no message sent to me under the table about United. I think I would remember that.
"It was just two friends, two colleagues in football, talking about many, many things.
"What I do remember was that Sir Alex spoke really fast and it was difficult to understand him.
"But it was nice because he chose an amazing restaurant – and of course he paid!"
Guardiola added: "In that period I had already talked to Bayern ­Munich and it was clear to me that I was going to experience Germany.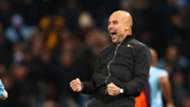 "Bayern Munich were the first club to call me, and then ­Manchester City, but I had already decided to try to prove myself in Germany and live that experience.
"After that, from almost the day I arrived, Manchester City asked me again and I said that if I went to the Premier League I would go to them.
"I spoke to [City chairman] ­Khaldoon [Al Mubarak] and [City director of football] Txiki ­[Begiristain] again during my last period in Bayern Munich and they showed more ­interest than any other club to pick me up.
"That was so important to me – and believe me, I don't have any regrets."
Guardiola will be at Old Trafford on Sunday with City, as he prepares to rekindle his rivalry with old adversary Jose Mourinho in another Premier League derby duel.