Super League
Gartung takes over the reins at PKNS FC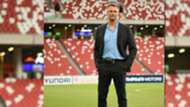 PKNS FC announced the appointment of Sven Gartung to replace E. Elavarasan as the head coach of the Super League club and his immediate task would be to ensure that the club stay in the top division for the 2018 season.
The 47-year-old German was previously the Selangor Sports State Council Coaching Director as well as being in charge of the team when they played in the 2017 Sultan Selangor Cup earlier in the season.
In a statement released on the club's social media channel, Gartung stressed the importance for the club to remain in the Super League. Currently sitting in 9th position, two places above the drop zone, PKNS still hold a 3-point lead over Melaka United and six points over Penang.
"The main target given by the management to me is to stay in the Super League. Looking that we have only managed 3 wins thus far, there's a lot to be done."
"After two successive defeats, We have to start getting wins starting with the Malaysia Cup match against Kuala Lumpur."
"I've seen the team in action in the past couple of matches and I see that they have the potential to be better than the current position suggest," said Gartung.
Elavarasan was removed from the head coach position after PKNS's defeat to Perak in the opening Malaysia Cup group match with Adam Abdullah being given the temporary rein for the subsequent three matches.
The task for Gartung is not helped by the inavailability of Safee Sali who is recuperating from his shoulder injury and the German will have to find the right formula to get the likes of Patrick Ronaldinho Wleh and Fabio Ferreira firing on all cylinders for the remaining matches this season.