PSL
Former international referee Errol Sweeney calls for protection of South African match officials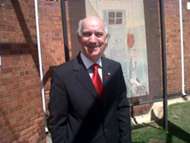 With the South African football having witnessed violent scenes in the past few days where a referee was attacked during an ABC Motsepe League match in KwaZulu-Natal, former international referee Dr Errol Sweeney says that match officials must be protected at all times.
Sweeney, who is now based in the United Kingdom, said there is no individual that deserves to be assaulted while adding that the standard of refereeing still has a long way to go.
"Yes, I am aware of the incident having witnessed it on social media. No one, and I mean no one, deserves to be assaulted least of all, a referee," Sweeney told Goal.
The South African Football Association (Safa) has promised to deal with the culprits and impose hefty sanctions on the perpetrators who physically assaulted referee Mongezi Phungula in a clash involving Summerfield Dynamos and XI Experience last weekend.
Social media was abuzz this week where footage surfaced of the incident thus sparking a widespread debate over whether or not the country's FA act against the barbaric behavior and ensure the safety of referees.
In addition, club officials have called for Safa's intervention to ensure that football referees are fair, unbiased and free of corruption in the lower divisions.
"I was also assaulted during my time as a referee in South Africa and believe me it's not a pleasant experience. Referees need to be protected and the duty of protection is on the home team. They are ultimately responsible for the safety of all, including referees, who visit their ground," he added.
On the other hand, Premier Soccer League (PSL) coaches have made calls for an improved officiating from the referees as some have consistently complained about some poor decisions across the board.
Whilst Sweeney reckons the standard of officiating can improve, he has called for proper structures that will help to mentor young and upcoming officials.
"I don't live in South Africa anymore. So, I'm not aware if this is an isolated incident or if it is more widespread," he continued.
"As for the standard of refereeing in South Africa, there is always room for improvement and that can only happen if there is a proper structure of coaching and mentoring for all match officials," he responded.
Asked about measures which should be put in place in order to make sure that match officials are protected, Sweeney said he would not send any referee to KwaZulu Natal if he were in charge of match officials in the ABC Motsepe League.  
"Well, if I was in charge of referees for that league, I would not send referees there unless they can guarantee safety for the referees. If they can't give 100 per cent assurance then they will not get referees. It's as simple as that," he concluded.