African All Stars
Former England stars want Ayew punished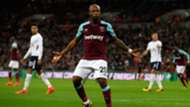 Andre Ayew has been in the news since Friday's Premier League meeting between West Ham United and Leicester City.
A second half substitute in the 1-1 draw at London Stadium, the Ghanaian has taken a lot of stick for what looked like an attempt to deceive referee Martin Atkins for a penalty following a Harry Maguire challenge.
Considering the fact that Everton's Oumar Niasse was retrospectively banned for a similar act the week before, former England striker Alan Shearer has called for Ayew's 'simulation' to be looked into.
"It's a clear dive and the unfortunate thing is the panel can't look at that," the pundit said on Match Of The Day.
"If they want to stamp diving out then the panel should be able to go back. 
"They should look at that and he should face a ban because that was a terrible dive."
Former England and Tottenham Hotspur star Jermaine Jenas shares Shearer's opinion.
"I would be surprised if Ayew doesn't get done for diving there," he told the BBC.
"It is a shocking dive and fair play to Martin Atkinson for spotting it, but he should have booked him."
Should Ayew be penalised, he will - in the least - miss Wednesday's league visit to Everton.
In Niasse's case, the Senegalese was handed a two-match ban for simulating to win Everton a penalty during their 2-2 draw with Crystal Palace.