Manchester United
'Five years ago I was playing Man Utd on the Playstation!' - Hamouma braced for Old Trafford test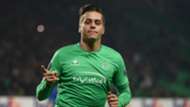 Romain Hamouma admits he will see the Playstation dreams of his past become a reality when Saint-Etienne face Manchester United in the last 32 of the Europa League.
Ready for Pog Battle in the Europa League!
An eagerly-anticipated trip to Old Trafford is almost upon them, and Hamouma is looking forward to playing in what he expects to be a "world class match".
He told France Football: "We have a real chance to play this extraordinary club. It will be great for our fans. A world class match!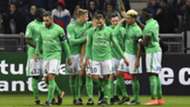 "We will play hard. If we manage to do something, it will be great. And if we cannot do it, it's just normal.
"We played Inter in 2014 but Manchester United is another level.
WATCH: Ligue 1 clash ends in brawl
"Five years ago, this kind of match, I was playing it on the Playstation!
"Besides, I have never set foot in England."
Saint-Etienne will head to Old Trafford for the first leg of their European showdown with United on February 16, with the return date in France set to take place a week later.