Serie A
Fiorentina take annual kit changes to another level by releasing four away shirts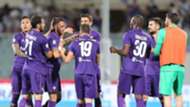 Tired of having to shell out on a new kit every summer? Dream of the days when teams would don the same strip for at least two seasons?
Well, spare a thought for supporters of Fiorentina who have just seen their club release FOUR away shirts!
Not happy with having just the one option, or possibly two given the penchant for third strips in the modern era, La Viola will have a whole range of jerseys to consider when heading out on the road in 2017-18.
ACF Fiorentina avrà 4 seconde maglie.
Leggi il comunicato https://t.co/OletP7EmOL
#4Quartieri1CuoreViola #BattitiViola pic.twitter.com/3Hd8vdV9Gj

— ACF Fiorentina (@acffiorentina) August 7, 2017
While the club will be forever synonymous with their iconic purple kit, they have decided to mix things up on the road.
Depending on who they are playing, or what kind of mood they are in, Fiorentina will have the choice of red, blue, green or white when away from home this season.
Records that can be broken in 2017-18
While that may seem slightly excessive, with supporters in a position where they would have to buy five shirts this summer in order to complete the set, the designs are meant to be a celebration of the city.
Each one represents one of the four districts of the ancient Calcio Fiorentina game, with the club seeking to embrace its history rather than draw a few more euros from the pockets of a loyal fan base.
"Fiorentina have decided to have four second strips and we have supported this particular idea, which values the history and traditions of Florence," read a statement from general director Marco Brunelli on the club's official website.
Premier League kits for 2017-18 campaign
"Serie A is always looking to ensure there is a feeling between fans, sport and initiatives linked with the development of the game of football."
Fiorentina will open their 2017-18 on the road at Inter on August 20, giving them an early opportunity to get some wear out of one of their many away offerings.