Toyota Football Engine
Fans' Asian Player of the Week: Japan's Genki Haraguchi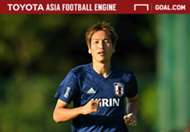 Japan's Genki Haraguchi has been chosen as last week's Fans' Asian Player of the Week, following his impressive performance in his team's 3-2 loss to Belgium in the World Cup. 
He scored a goal and offered much to Japan's attacking threat with his dynamism and passing range. He was also named Goal's Asian Player of the Week. 
His shooting accuracy also was exemplary in the game and it was demonstrated through Japan's first goal. After a fast counter-attack, the 27-year-old player was suddenly in sight of goal and fired a shot along the ground, which Thibaut Courtois could not reach.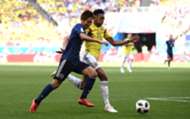 Also in the fray for the honour was Takashi Inui, also of Japan - who was also impressive in his side's narrow loss. 
But the fans made their voice count as Haraguchi received a whopping majority of the votes.