Amanda Dlamini
EXTRA TIME: Watch Amanda Dlamini on her return to football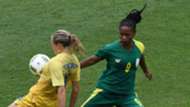 At the beginning of this year Amanda Dlamini announced her retirement from the ladies' national team.
Even though she didn't retire from all football, she's only just returned to action, doing so for JVW Girls in the Sasol League this weekend.
She did so in style as JVW beat SHS 6-0 in the league. You can watch Dlamini talk about the difficulty of returning to action after so long in the second tweet below.
6 goals, 6 different goalscorers and a clean sheet saw JVW beat Springs Home Sweepers in their second match of the weekend in the @SasolLeague

GS: Nyandeni, Albuquerque, Dlamini, Mashigo, Salgado and Ntsibande 💙 pic.twitter.com/uxjSR5wkMA

— JVW Girls Football (@JVWGirlsFootbal) July 30, 2018
Post Match Interview: @Amanda_Dlamini9 chats about being back on the playing field for the first time since announcing her International Retirement. Dlamini clocked her first 90 minutes in the 2018 #Sasolleague with a win 💙 #wearejvw #jvwfc #carfindjvw pic.twitter.com/iTspcb1Uqc

— JVW Girls Football (@JVWGirlsFootbal) July 29, 2018