Czech Republic v South Africa
EXTRA TIME: South Africa reacts to Banyana disappointment in Cyprus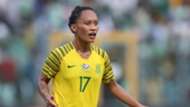 The Czech Republic came from behind to beat the South African ladies national team 2-1 in their last group game.
In the 17th minute, Linda Motlhalo assisted Mamello Makhabane who opened the scoring for Banyana Banyana.
The Czech team knew they were in for a long day when they were reduced to 10 players. Jarchovska Andre was red carded for a dangerous tackle on Refiloe Jane.
Even though the Europeans went down to 10 players, they eventually beat South Africa with two late goals to sum up Banyana's disappointing campaign.
That wrapped up the Cyprus Cup group stages for Banyana who were embarrassed 4-1 against Korea DPR in their previous game.
One can watch highlights of how SA lost to Korea in a Tweet below. There's also a training video, photos and comforting words from their supporters who haven't lost faith in their ambitions for France 2019.
2018 @CAF_Online Women's Player of the Year @KgatlanaJnr11 reached her 50th cap today after being part of @Banyana_Banyana for just over 4 years.

Congratulations Pikinini! Continue pushing boundaries and being #Limitless 👊#CyprusWomensCup pic.twitter.com/Xb9aszDz85

— Official SasolLeague (@SasolLeague) March 4, 2019
.@Banyana_Banyana fall to Korea DPR in the @CyprusWomensCup. Watch the highlights @safa_net @sasolleague pic.twitter.com/k0fws7LvDR

— Sasol (@SasolSA) March 2, 2019
(Watch) South Africa and the Czech Republic meet in the third and final group stages match of the 2019 @cypruswomenscup tomorrow at the Antonis Papadopoulis Stadium in Larnaca, Cyprus.

Kickoff is at 13h00@Banyana_Banyana @SAFA_net @SasolLeague pic.twitter.com/yRuiTPagAX

— Sasol (@SasolSA) March 3, 2019
Match Day! @Banyana_Banyana vs Czech Republic at the Antonis Papadopoulos Stadium in Larnaca in the 2019 Cyprus Women's Cup. Kickoff is at 13h00 #cypruswomenscup @SAFA_net @SasolLeague @SasolSA #limitless @BafanaBafana @CyprusCup #cypruswomenscup #RSAvsCZECH pic.twitter.com/9pNAgNV9Zk

— Banyana_Banyana (@Banyana_Banyana) March 4, 2019
Banyana defeated in their last Group match #CyprusCup https://t.co/0EyoksAazD

— Mosibudi Rachel M (@rachysuperstar) March 4, 2019
#StopWomenAbuse this should be considered as Women Abuse than the cows call Bafana Bafana are payed more than the glorious Banyana Banyana

— Siyolo Brandy (@MakhayiDibashe) March 4, 2019
OPINION: Banyana Banyana has qualified for the World Cup - How about the FA pay tribute to the class of the 90s who laid out a foundation that is currently being used?

Just because you have made it doesn't mean forget where you come from. Banyana played their first game in 1993

— brighten (@u_bhekani) March 4, 2019