Kaizer Chiefs
EXTRA TIME: PSL and Bafana stars pay tribute to Kaizer Chiefs' Wiseman Meyiwa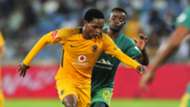 Kaizer Chiefs player Wiseman Meyiwa survived the car accident on the N3 highway near Villiers in the Free State on November 3.
However a trip to visit his family in Pietermaritzburg has meant that he can't play football anymore. Over the last two months he's received treatment but the doctors have been unable to cure his injuries.
The Amakhosi club confirmed the sad news with the following statement:
"We are very disheartened that Wiseman's promising career had to come to an end so abruptly when he still had so much to offer," said Chiefs chairman Kaizer Motaung.
"This is the first time that we've ever had to deal with this situation in as far as players go, but we are doing our best to ensure that we give Wiseman all the support and care he needs.
"We are shattered because he is very young, everyone had high hopes of him and his family expected a lot from his football career. Yet, in the same breath we are grateful that his life has been spared."
There's been an overwhelming response on social media from the PSL's top stars, Bafana Bafana, Banyana Banyana, legends and the media. You can read the Tweets dedicated to Meyiwa below.
At 19 to have your whole world turned upside down like this, I can never imagine. Can only wish Meyiwa strength and comfort.

— yusuf variava (@yusuf_variava) January 31, 2019
Would like wholeheartedly as human being and sports person to join whole South African football family in prayers for Wiseman Meyiwa believing that miracles do happen and that you recover and go back where you belong on football pitch.... pic.twitter.com/enF070JO08

— MICHOcoach-WOLF OF SERBIA (@michocoach) January 31, 2019
Remember how Kaka injured his spinal cord at the age of 18 and made a comeback to football? His doctors at the time said he would never play again, but he came back and realized his dream of becoming a professional football. Wiseman Meyiwa will win this battle as well 😢

— Ernest Makhaya™ (@ernestmakhaya) January 31, 2019
This is really really sad!!! May God give you all the strength you need brother🙏🏽🙏🏽🙏🏽🙏🏽 https://t.co/GlpX0qkke0

— Keagan dolly (@dolly_keagan07) January 31, 2019
Our thoughts and well wishes to Wiseman Meyiwa of @KaizerChiefs who at just the age of 19 has had to retire from football due to the nature of the injuries he sustained in a car accident in 2018. ✊🏾🙏🏾💔

— robertmarawa (@robertmarawa) January 31, 2019
A career taken away before it really began. A truly devastating story! All my thoughts and prayers are with #WisemanMeyiwa and his family. 🙏🏻

— Dean Furman (@de4no22) January 31, 2019
Wiseman Meyiwa's football career has been cut short because of injuries sustained in a motor vehicle accident late last year.

We wish him and his family strength as they come to terms with this new reality.#Amakhosi4Life pic.twitter.com/4QFxyrpVzz

— Kaizer Chiefs (@KaizerChiefs) January 31, 2019
I don't know how I would've coped with this kind of reality that faces Wiseman Meyiwa at such a young age.I hope we can show him lots of support and continue encouraging him on his road to recovery.
Bhut wam,You're in our thoughts &prayers.
PrayingForAnotherMiracle#sisonke👊🏻

— Amanda toki Dlamini (@Amanda_Dlamini9) January 31, 2019
Thoughts and Prayers to you young soldier🙏🏾🙏🏾🙏🏾 pic.twitter.com/vz1b5ImcgU

— Aubrey Ngoma (@aubreyngoma11) January 31, 2019
This is any athlete's nightmare and so heartbreaking 😫
I cant imagine being in his situation
right now😢

Wishing you all the best & a speedy recovery @Wisemanmeyiwa38
My thoughts & prayers are with you. 🙏 https://t.co/eOM5otlVDC

— Janine Van Wyk (@Janinevanwyk5) January 31, 2019
💔💔🙏Wiseman Meyiwa @KaizerChiefs pic.twitter.com/BadVb8VATw

— Percy Tau (@percymuzitau22) January 31, 2019
God is good all the time, https://t.co/fW3pg76qtd

— Lehlohonolo Majoro (@BalloJoro) January 31, 2019
❤️😭

📷: @KaizerChiefs pic.twitter.com/O9MnC3xwpc

— AB Basson (@ABBasson17) January 31, 2019
Lord I'm forever Grateful #WisemanMeyiwa💔 https://t.co/ZxqTafVJwj

— Nazier 17 (@NazierJacobs17) January 31, 2019
May God be with you Wiseman Meyiwa.

— Marc Van Heerden (@MarcVH08) January 31, 2019