Orlando Pirates
EXTRA TIME: Orlando Pirates' assistant coach Rulani Mokwena and Daine Klate discuss over-coaching in the PSL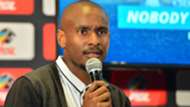 Rulani Mokwena is the most active South African coach when it comes to sharing training videos on Twitter.
The Orlando Pirates mentor loves to retweet videos of the likes of Pep Guardiola at Manchester City or Barcelona's coaching clips.
Mokwena is just motivated to learn as much as possible from these European training techniques and he also travels overseas to learn from academies.
Now, he wonders if there is such a thing as over-coaching when he considers that the more you prepare for a game, the better off you should be to face your opponent.
The PSL's most celebrated player Daine Klate then shares his opinion on the matter. Klate feels that some players do lose interest from information overload and that their education background can make a difference.
What do you think? Do PSL teams need to prepare for matches with greater detail or would that be over-coaching our players?
Over coaching here happens when players lose interest, mostly by info overload at one time also education background plays a part i feel coach https://t.co/Yim8nTPOH8

— Daine Klate (@Klatey7) March 4, 2019
Game model 👏🏻 https://t.co/QYmYjqsSL7

— Rulani Mokwena (@coach_rulani) March 3, 2019